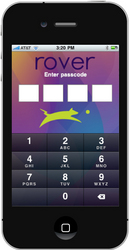 "Rover Apps provided us a flexible and secure mobile platform from which to provide mobile iChannel access to key finance & accounting customers..." - Chet Joglekar, CEO of Conarc
Roswell, GA (PRWEB) September 17, 2010
Information-hungry mobile professionals now expect the same easy mobile access to their business software on their smartphone as they would from their desktop or laptop. As a result, independent software vendors are faced with a tough choice. They can build a mobile solution for their software alone, spending considerable time and resources to help their customers be more effective while away from the office. Or ISV's can partner with an experienced mobile business application provider to offer a mobile solution fast and cost-effectively. Rover Apps was co-founded by CEO Jonathan Foulkes with the goal of easing that transition to mobile for these ISV's and their mobile customers.
"We designed our Rover Apps solutions to provide mobile extensibility and customization that's quickly and cost-effectively leveraged by both ISV's and system integrators. Rover Apps lets these companies focus on what they do best – supporting business software, and leaves the hard parts of mobile interface, communications, management, security and multiple-platform support to us. Rover Apps is a natural fit for a rapid mobile enablement of an ISV's existing applications, particularly dynamic and customizable ones like Conarc's iChannel." We are excited to have built iChannel Mobile for Conarc to mobile-enable their customers," says Rover Apps CEO Jonathan Foulkes.
For Chet Joglekar, CEO Conarc, Rover Apps was the right choice for a fast and cost-effective means to mobile enable his customers. "Rover Apps provided us a flexible and secure mobile platform from which to provide mobile iChannel access to our finance and accounting customers. Supporting iChannel's flexible document management features, Rover Apps enabled us to bolster our customers' unique configurations and offer them value-add mobile integration. Our top clients in finance and accounting are now able to remotely – and securely – access their vital information hosted in iChannel while they are mobile. With this first release of iChannel Mobile our customers can access ALL their clients, contacts and documents from their mobile devices thus allowing them to offer superior client service to all they serve."
Rover Apps seamlessly connects the mobile professional to their vital business information at the office – even hard-to-get business information contained behind firewalls in proprietary and third-party software. Traveling executives, salespeople, or business owners can use Rover Apps to make better, faster decisions away from their office, accessing spreadsheets, reports, data, and documents in a format friendly for the iPhone or iPad screen.
Rover App' core Rover Retriever application is available for a free trial. Install Rover Retriever right from Apple's iTunes App Store to immediately access sample business information. To see your company's business information go to the Rover Apps Web site to install the companion Rover Gateway on your company computer or server.
About Conarc, Inc.: Conarc offers enterprise class software products and custom solutions, consulting on information technology and databases and customer relationship management. iChannel is a web browser-based, collaborative document management system that delivers the means to create, share, manipulate and manage all structured and unstructured information in a simple, secure and cost-effective manner. Conarc serves clients with iChannel in the finance, accounting, real estate, insurance, transportation, and procurement sectors as well as industry leaders and Fortune 1000 companies.
About Rover Apps, LLC: Rover Apps securely connects mobile business people using smartphones and mobile devices to their vital company information back at the office. Our core mobile business application – Rover Retriever – empowers businesses and their mobile employees to make better, faster decisions while on-the-go. Rover Apps is now offering Rover Retriever for the iPhone® and iPad®.
# # #