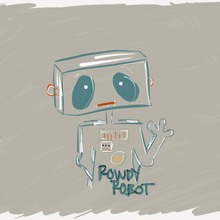 "We've reached our funding goal, but now it's time to focus on the next step." - Jon Prevo, CEO Rowdy Robot
Lehi, UT (PRWEB) May 18, 2012
High tech startup Rowdy Robot has reached the $50,000 funding mark on the website Kickstarter. The company is developing a new device known as the TOD (pronounced "toad") that will allow people to easily connect real-world objects and places to the Web using advanced wireless technology.
After 21 days of funding on Kickstarter, TOD has already been backed by 695 supporters. Rowdy Robot launched their Kickstarter campaign on April 27 and saw it take off from there. The campaign raised over $2,000 a day and continues its upward trend towards $100,000 by the end of the Kickstarter project on June 2.
"We are truly grateful for everyone of our backers' support through Kickstarter," Rowdy Robot VP of Sales and Marketing Don Mallicoat said. "We know we have a great idea with TOD, and it's encouraging to have so many people behind us as we move towards the product launch in October."
Connecting People, Places and Things To The Web—Wirelessly
Appealing to the rapidly growing mobile user market, TOD interacts with its surrounding environment, empowering people to create what has been called the "Internet of Things." The product has been featured on Mashable and other tech savvy sites as word spread on Kickstarter.
A small rounded device about the size of a silver dollar, TOD uses the Bluetooth 4.0 standard to connect to enabled smartphones, laptops and tablets. Example use cases for the device include proximity notifications for retail stores, safety alerts for families with children and other geo-location based applications.
Rowdy Robot is releasing TOD as an open development platform and will release an early beta version of the hardware, tools and specification to developers in July.
Kickstarter Funding Remains Open to New Backers
Having reached their initial funding goal of $50,000, Rowdy Robot is excited to see how much they will raise by the June 2 deadline on Kickstarter. Right now, more than 1,100 TODs have been pre-ordered by 695 backers. Each backer is offered rewards that vary depending on their contribution level.
"We've created a variety of different support levels so backers can get really great deals and save a lot of money on their TODs by supporting us on Kickstarter," Rowdy Robot CEO Jon Prevo said. "We've reached our funding goal, but now it's time to focus on the next step."
With two weeks left, TOD's Kickstarter project is remaining fresh by adding new reward levels featuring attractive benefits for new and existing backers. These rewards reflect the creativity the owners possess and mentioned that they anticipate doubling their efforts before the project end.
About Rowdy Robot
Rowdy Robot is developing tōd as affordable and expandable technology to connect consumers to their favorite places, things and actions using the company's innovative devices and software paired with Bluetooth 4.0 enabled devices. The Lehi, Utah based company was officially founded in 2012 after several years of research and development. For more information about tōd, visit http://todhq.com.
###