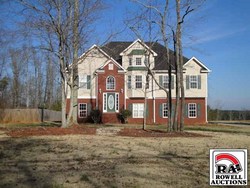 Over 75 of these properties will be selling absolute. That means there are no dollar minimums and no reserves.
Atlanta, GA (Vocus) February 22, 2010
Rowell Auctions, Inc. announces the online real estate auction of over 120+ foreclosed properties in Alabama, Georgia, and Florida with 75+ selling at absolute auction - no minimums, no reserves.
Altogether for this event, Rowell Auctions, Inc. a licensed real estate broker and real estate auction company, will be auctioning more than 120+ Georgia , Alabama, and Florida foreclosed homes, residential lots, vacation and office condos, and commercial properties]. Bidding has already opened and will continue until March 3rd. All bidding is being done at the Rowell Auctions website.
These highly desirable properties are located all over the state of Georgia including Atlanta and surrounding metro areas, St. Simons Island, Brunswick, Carrollton, Monroe, Dallas, and Loganville. Florida properties are located in Jacksonville, St. Augustine, Hernando, and other surrounding areas.
Online real estate auctions are starting to become the preferred way for buyers to purchase a second home or vacation home. Investors also look for these real estate auction events as a way to create portfolios and add additional assets to existing ones.
"Over 75 of these properties will be selling absolute. That means there are no dollar minimums and no reserves." says Mark Manley, CAI, CES, AARE, licensed auctioneer and auction coordinator for the event. "Since a large percentage of these properties will be selling absolute, I expect there to be a lot of interest and fairly aggressive bidding."
Still, in view of today's challenging real estate market there will still be a wide range of bidders and auction prices for bank foreclosed homes will vary. Smart investors will still be able to purchase much of this real estate at fractions of the list price. Additionally, it can be done with the convenience of online bidding. Online bidding allows individuals to make bids from anywhere there is a live internet connection including Smartphones.
This is not the first auction of its type conducted by Rowel Auctions, Inc. who has already offered over 170 properties at auction in 2010 so far, but it is the first auction this year to include properties selling absolute.
For more information about this auction, please visit http://www.RowellAuctions.com or call 1-800-323-8388.
About Rowell Auctions, Inc:
Established in 1936, Rowell Auctions, Inc. has provided clients with the most comprehensive marketing services for more than 70 years. The company's auction marketing professionals sell real estate and other substantial assets throughout the nation through online auctions and live auction events.
# # #