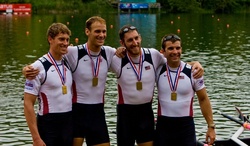 We're so pleased that the city of Piedmont will honor Scott Gault and send him to the Olympic Games with plenty of encouragement
PIEDMONT, Calif. (PRWEB) July 24, 2008
A Piedmont High School graduate, Gault will visit his hometown briefly from the US National Training camp in New Jersey, before leaving with his teammates and CRC coach Tim McLaren for China this weekend.
Members of the City Council will attend the reception, including the Vice Mayor Dean Barbieri, who will present Gault with a proclamation. In addition, organizers expect Ian Turner, a gold medalist in rowing from the 1948 Olympic Games, and other rowers and their families to attend the event.
Gault, who joined the CRC in 2007, has earned significant success this year. His accomplishments with the CRC and the US National Team include winning a gold medal at the 2008 Rowing World Cup in Lucerne, Switzerland on June 1. Gault was the stroke, or first position nearest the stern, of the winning US quadruple scull. The victory is significant as the US men's quad beat the defending champions, for a first-ever win for the US of this event in Europe. This is Gault's first year on the US National Team and his first trip to the Olympic Games.
"We're so pleased that the city of Piedmont will honor Scott Gault and send him to the Olympic Games with plenty of encouragement," says Rich Hallock, executive director and CFO of the CRC. "Scott is a dedicated athlete and has worked very hard for the opportunity to compete at this level."
CRC athletes Elliot Hovey, Wes Piermarini, and CRC Head Coach Tim McLaren have also earned a place on the US Olympic Rowing team, bound for the 2008 Olympic Games in Beijing, China.
For more information on the City of Piedmont, Calif. please visit: http://www.ci.piedmont.ca.us/
About the CRC
Located in Oakland, Calif., the California Rowing Club (CRC) is a national training center for elite-level rowers who compete at World Cup, World Championship, and Olympic levels. The CRC works closely with other rowing organizations, including USRowing and the US National Rowing Team. The CRC works to augment the national system and support the participation and success of US athletes in the highest levels of domestic and international competition. The CRC is a donor-supported 501c3 non-profit organization, dedicated to improving the sport of rowing. Please visit the CRC online at http://www.CaliforniaRowingClub.org
For more information, please contact Rich Hallock, executive director and CFO directly at tel: (510) 899-7906 or e-mail: Rich.Hallock@CaliforniaRowingClub.org
High-resolution, digital photos of the California Rowing Club are available on request.
MULTIMEDIA GALLERY http://www.businesswire.com/cgi-bin/mmg.cgi?eid=5739734