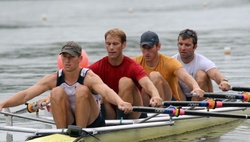 The pairing of the US and Iraqi crews in competition for this event underscores the spirit of the Olympic Games
BEIJING (PRWEB) August 11, 2008
Scott Gault is the stroke of the US men's quadruple scull that includes Jamie Schroeder at three, Sam Stitt at two, and Matt Hughes in the bow seat. The crew placed third in their event and will race again on Tuesday, August 12.
Elliot Hovey is the stroke and Wes Piermarini is in the bow seat of the US men's double scull. The two raced today against Russia, Belgium, Bulgaria and Iraq. They finished fourth in the repechage race with a time of 6:26.05, falling short of qualification for the semifinals. However, Hovey and Piermarini will row against the Iraqi boat in the C final on Wednesday. Both the crews from the US and Iraq are young and this is their first trip to the Olympic Games.
The Iraqi crew of Haider Nozad (bow seat) and Hussein Jebur (stern seat) made news at the start of the Games when the International Olympic Committee agreed to allow a number of Iraqi athletes to take part in the Games in Beijing, after a ban on the team's participation was lifted at the last minute.
"The pairing of the US and Iraqi crews in competition for this event underscores the spirit of the Olympic Games," said Rich Hallock, executive director and CFO of the California Rowing Club. "The Olympics are a show of athletic ability and a show of cooperation among nations."
Rowing competition at the 2008 Olympic Games continues from Saturday, August 9 to Sunday, August 17. The final races, where Olympic medals will be awarded, will be held August 16 and 17.
About the California Rowing Club
Located in Oakland, Calif., the California Rowing Club is a national training center for elite-level rowers who compete at World Cup, World Championship, and Olympic levels. The California Rowing Club works closely with other rowing organizations, including USRowing and the US National Rowing Team to support the success of US athletes in the highest levels of domestic and international competition. The California Rowing Club is a donor-supported 501c3 non-profit organization, dedicated to improving the sport of competitive rowing. Please visit online: http://www.CaliforniaRowingClub.org
For more information, please contact Rich Hallock, executive director and CFO directly at tel: (510) 899-7906 or e-mail: Rich.Hallock@CaliforniaRowingClub.org
High-resolution, digital photos of the California Rowing Club and its athletes are available on request.
MULTIMEDIA GALLERY http://www.businesswire.com/cgi-bin/mmg.cgi?eid=5753846