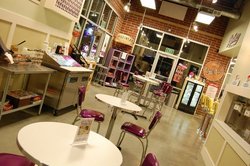 "The key to growing Roxberry will be not only the superior ingredients, but choosing the right franchise partners." -Brad Davis, Owner of Roxberry Juice Co.
American Fork, UT (PRWEB) November 10, 2010
Roxberry, a made-to-order smoothie and fresh yogurt franchise, recently unveiled two new store locations in Utah and is celebrating those openings by serving up some blended nirvana to potential franchise entrepreneurs -- a reduced franchise fee for the next 90 days.
Known for its fresh, bold flavors, Roxberry will reduce the normal $25,000 franchise fee to $10,000 until February 15, 2011, for those seeking a growing business model. Roxberry's healthy and delicious concept focuses on only the freshest, premium fruits, proprietary juices, and natural smart shots – never using syrup-based juices, artificial flavorings, colorings, sugars or additives.
According to Global Industry Analysts Inc., as reported in the San Francisco Chronicle, the global functional food and drink industry is expected to exceed $130 billion dollars in the next five years. With Roxberry's strict focus on using only healthy and natural ingredients, Roxberry owner Brad Davis, foresees a prime position for the brand's growth. With multi-store development deals in Kansas City, Missouri and Phoenix, Arizona, Roxberry is already establishing itself on the national scene.
"We know the credit markets are tight, but we're seeing signs of marked improvement," said Davis. "This reduction in fees is one way we can help bring out the entrepreneurs interested in venturing out on their own. As a satisfying and refreshing option to unhealthy foods, franchisees can proudly serve a nutritious product and avoid the high costs of starting a new business from the ground up."
Roxberry's market position is to produce the highest quality products using only the freshest fruits, juices and yogurts available in today's food market. And, while competing smoothie and yogurt shops fill blended drinks with powders, sugar-filled fruit purées or other processed ingredients, there is little health benefit in those drinks.
Davis has a history of building winning brands as a past partner and executive with the Zuka Juice, Jamba Juice and Rumbi Island Grill concepts. Using this experience to grow Roxberry into a major national brand is his latest vision, believing that consumers are drawn to businesses that follow intelligent trends like nutritious food choices.
Roxberry opened its two most recent locations in Utah, which Forbes Magazine recently named the best state for business in 2010, expanding 3.5 percent faster than every state in the last five years, except one. The two new Utah stores are located respectively in downtown Salt Lake City in the City Creek Food Court, 28 S. State Street Ste. 114, and in Draper, 214 East 13800 South.
"The key to growing Roxberry will be not only the superior ingredients, but choosing the right franchise partners," said Davis. "Financial ability is always a factor in starting any franchise, but the most important part in our decision is choosing those who have a similar frame of mind and customer-first perspective."
About Roxberry
Roxberry is a made-to-order smoothie and fresh yogurt concept headquartered in American Fork, Utah. Insisting on only the freshest, highest quality and healthiest ingredients, Roxberry sets itself apart. The nostalgic and throwback ambiance found at Roxberry was created by Brad Davis, a former executive with Zuka Juice and Jamba Juice, who has nearly 15 years experience in the smoothie business. Roxberry intends to expand its brand nationally beginning with Utah and the neighboring Western states through franchise operators as well as company-owned stores. More information about Roxberry or franchise opportunities can be found online at http://www.roxberryjuice.com.
###