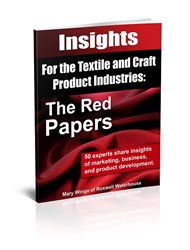 The results were so enlightening, and potentially very helpful to others, that I decided to compile this book.
Snyder, TX (PRWEB) September 02, 2013
Mary Wingo, founder of Roxwell Waterhouse, has just announced the release of a free ebook that features interviews with 50 diverse and talented entrepreneurs and experts from the fabric product industry. The ebook, which is titled "Insights for the Textile and Craft Product Industries: The Red Papers," may be downloaded at no cost from the company's website.
As Wingo noted, the fabric products business is a trillion dollar industry that operates with essentially no guidance of any kind. Because of this, the insights that she uncovers and expands upon in her ebook are extremely important to those who wish to learn how to succeed in the industry.
"The Red Papers is an incredible 130 page resource for anyone in the creative arts and fabric products business," Wingo said.
"I have interviewed 50 professionals in the fashion, arts, and industrial sectors and have received valuable insights into business development, marketing, and operations. These gutsy professionals reveal mistakes they have made while building their enterprise, as well how they plan to expand in the future."
The fact that Wingo would devote herself to writing such an in-depth and ground-breaking ebook probably does not come as a surprise to the many clients who have worked with her at Roxwell Waterhouse. Since the day the company opened for business, it has quickly developed a reputation for its high quality and affordable clothing labels and other fabric branding solutions.
As Wingo explained, being in a business that supplies fabric labels, she has had extensive contact with a wide range of customers. Since anything made from fabric requires a label before it is sold, she has had the opportunity to work with a varied and interesting group of people to help them to label the most unusual fabric products.
"Over the years, I have watched my customers grow, and I have decided to actually ask my clients how they did it," Wingo said.
"The results were so enlightening, and potentially very helpful to others, that I decided to compile this book."
Anybody who would like to learn more about Roxwell Waterhouse is welcome to visit the company's website at any time; there, they can browse through the fabric labels that are available, and download the free ebook. Those who have questions about the ebook, or would like to schedule an interview with Wingo, may call or email her directly at 682-227-0100 or mary(at)roxwellwaterhouse(dot)com.
About Roxwell Waterhouse:
Mary Wingo is the founder of Roxwell Waterhouse, an innovative fabric branding solutions firm providing premium clothing labels. She has worked with hundreds of entrepreneurs and artists in the textile industry. For more information about Roxwell Waterhouse, please visit http://roxwellwaterhouse.com/.