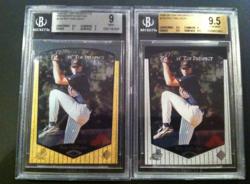 In my opinion, I think this is the holy grail of Roy's rookie cards. There's only ten of them and I honestly don't think there will ever be one that will grade above this one.
Palm Beach, FL (PRWEB) May 08, 2012
Roy Halladay is bound for the Hall of Fame and widely considered by the majority of sports writers as being the most dominant pitcher of the last ten-years. With nearly 200 wins, 2,000 strikeouts, 66 complete games, 22 shutouts, two Cy Young Awards, a perfect game and a post season no-hitter on his resume, it is pretty easy to agree.
The three-time, 20-game winner could retire early at the end of this season and be a first ballot inductee into Cooperstown. That being said Roy "Doc" Halladay, as his fans know him, should continue to dominate MLB hitters for another five seasons or, at the very least, through his 2014 contract with the Phillies.
One South Florida man has spent more than three-years assembling what can arguably be called the best collection of Halladay's most coveted sports cards. The crown jewel of the collection is the 1998 Upper Deck SP Prospects President's Edition rookie card. It is an ultra limited edition card of which only ten were ever produced and only two have ever been submitted to Beckett Grading Services or any other company for authentication. This particular card owned by the South Florida Halladay fan, who wishes to remain anonymous, is the highest graded version known to be in existence. Graded a BGS 9.0, the card is certified as being authentic and in mint condition.
The same collector also owns the only known regular version of the same rookie card that has been graded a BGS 9.5 Gem Mint condition card. These particular cards are very condition sensitive and thus extremely difficult to obtain in perfect condition. They feature foil edges and a black border on the reverse, which are all things that add up to a card being nearly impossible to find in good shape. The collector has somewhat reluctantly put both of the cards up for auction on eBay.
According to the collector, "a big part of this whole thing was the joy of the hunt for the cards. There were only ten of the President's Edition cards ever produced and finding one in good enough condition to grade a BGS 9.0 was not easy. Since I've accomplished my goal I figure it is time to move on, and the money from the sale will certainly be welcomed."
The reserve price of $10,000 might seem extreme to some at first glance but consider this: Albert Pujols, a player who emerged right around the same time as Halladay and who also dominated the league for the majority of his career as a power hitter, has a rookie card for which fifty-times as many were produced as the Halladay card (500) and routinely sells for $15,000 or more. In March, New York Knicks now injured phenom Jeremy Lin had a card, which was limited to just twenty-five copies that sold for $16,000 on eBay. Even the infamous Honus Wagner T-206 baseball card, which has sold for more than two million dollars, is thought to have a total of 100 copies in existence. Earlier this year a Halladay Bowman Chrome rookie card, which to date the only one ever graded a BGS 10, sold for $1,500; however tens of thousands of that particular card were produced. Therefore, a Halladay card that is limited to just 10 and is graded a BGS 9.0 should widely be considered his most valuable and coveted baseball card ever produced.
The seller is not sure how the auction will end up, but however it does the buyer is certain of one thing, "In my opinion, I think this is the holy grail of Roy's rookie cards. I honestly don't think there will ever be one that will grade above this one."
It might sound like a sales pitch but consider this, while on his search, the collector sought out and purchased as many boxes of the 1998 Upper Deck SP Prospects cards as he could find in the hopes of finding a mint version of the card. In total, the collector purchased more than 100 boxes. Of those 100 boxes, the collector yielded about eighty of the regular versions of the base rookie card. Of those eighty, only six were in good enough condition to warrant being sent off for grading. All six of those cards came back as BGS 9.0 cards. The one of ten President's Edition card and the BGS 9.5 card were both purchased direct from other collectors.
The seller has also decided to donate 10% of the total sale price to the Children's Hospital of Philadelphia.
The auction runs through next Monday and can be found by going to the following auction link.
This News Article Is A Featured Article On Graded Card Reports, An Opt In Email Newsletter service.
Graded Card Reports is based out of New York City.