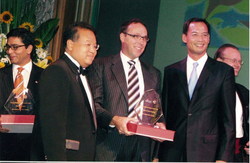 We are very proud of our offices in Thailand. It is a well-deserved award.
Bangkok/Nijmegen (PRWeb UK) October 17, 2009
Chuchawal Royal Haskoning was awarded the Netherlands - Thai Chamber of Commerce and the Belgium/Luxembourg Chamber of Commerce Business Award 2009 in the category Best Multinational Company.
Chuchawal Royal Haskoning was selected based on the following criteria: Innovation; Corporate Social Responsibility; Dedication to Training and HR Development; Promotion of Thai-Benelux relations; Overall Business Achievement.
The jury consisted of Mr. Ian Woo, Consultant and Business Writer at The Nation; Mr. Henk Kiks, CEO of B-Quik, and recent award winner (NTCC); Mr. Bernard Collin, CEO of Safecoms, and recent award winner (Beluthai); Mr. Hans van Santen, Counsellor, Netherlands Embassy Bangkok; Mr. Bert Cesar, Executive Director of the NTCC and Beluthai. The jury was chaired by Dr. Pakpachong Wattanasindhu, Chulalongkorn University, Bangkok, Thailand.
Alko Plas, President Chuchawal Royal Haskoning Ltd.: "We are very honored to receive this award. It feels good to be appreciated."
Erik Oostwegel, Board of Management Royal Haskoning: "We are very proud of our offices in Thailand. It is a well-deserved award."
Chuchawal Royal Haskoning
With its 120 employees and 35 years of experience in Thailand, Chuchawal Royal Haskoning is a strong branch in the Royal Haskoning family. The focus of our consultants, architects and engineers lies mainly on industrial and commercial building design. Public and private sectors value the dedication and commitment of our staff to achieve sustainable solutions in an increasingly complex society. The network of international partners, guarantee multidisciplinary and integrated services locally, based on global innovation and experience. The firm was established in 1969 by Dutch engineering firm De Weger International (part of Royal Haskoning) for the design of the headquarters of the Bank of Thailand together with Design 103.
Royal Haskoning
Founded in 1881 in the Netherlands, Royal Haskoning employs 4400 staff in 60 offices in 20 different countries. Royal Haskoning is a multidisciplinary firm that operates internationally. Consultants, architects and engineers advise on spatial development, infrastructure and transport, architecture, building, building services, industrial installations, project management, water and water management, environment, coastal and rivers, ports and maritime projects. Public and private sectors throughout the world value our organization among others for its focus on the sustainable interaction between people and their environment. The company realised a turnover of € 373 million in 2008.
NOTE for EDITORS
The sender of this press release is Royal Haskoning. For more information please contact: NL: Suzanne Hendriksen, Marketing & Communications, T +31 (0)24 3284 190, E: s.hendriksen (at) royalhaskoning (dot) com
Alko Plas, Tel +66805899595, a.plas (at) royalhaskoning (dot) com
###