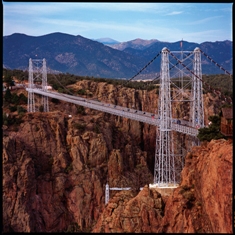 This lucky person will get an awesome vacation in one of the most beautiful places in Colorado
Canon City, CO (PRWEB) June 16, 2011
It took awhile to look through old paperwork, about 82 years worth, but Mike Bandera, Vice President and General Manager at the Royal Gorge Bridge & Park in Canon City, Colorado said, "Towards the end of June we expect the 25 millionth person to walk through the gate."
The big surprise will be on them with gifts and a lifetime pass to the park worth $2,500, he said. Another $1300 worth of 2011 VIP passes have been donated by Pikes Peak Country Attractions Association. Local Canon City and Royal Gorge Region businesses have sweetened the pot as well with several hundred more dollars worth of "fun stuff." "This lucky person will get an awesome vacation in one of the most beautiful places in Colorado," said Bandera.
Long touted as one of the premier attractions in Colorado, the Royal Gorge Bridge and Park has been drawing substantial crowds year round since 1929 when the bridge first opened. "We have generations coming back with grand kids and great grand kids, and we thought this would be a special way to honor the park, the Royal Gorge region, and what it has meant to our guests."
December 8, 1929 was the grand opening of the Royal Gorge Bridge and "we don't really know who was the first across, probably a construction worker as the bridge was completed by mid-November that year. It was reported in a newspaper back then that George E. Cole had an extreme aversion to unstable footing and extreme heights. This man built the world's highest suspension bridge at that time and back in 1931, the world's steepest Incline railway," said Bandera.
According to past records of attendance, Bandera said he would expect the 25 millionth person to enter the gate about the end of June. Since some of the attendance years were rounded off, Bandera said they will choose a number between one and 1,500 on June 30th and the person coming through admissions who happens to be that guest number will be the big winner.
The winner and family of up to four will receive a lifetime family pass to the park valued at approximately $1,300 and two free night stays at the Bighorn Mountaintop Lodge valued at $650 for a four person stay. Also included in the Royal Gorge Bridge and Park package are a $100 gift certificate for four rides on the Royal Rush Skycoaster, a $100 gift certificate for four half hour rides at the Watt Mule Trail Rides, a $135 gift certificate to the park shops, a $135 gift certificate to any of the park restaurants or food locations, and four riders at the Royal Gorge Jeep Tours valued at $80. Pikes Peak Country Attractions with approximately 26 members in Colorado Springs and the Royal Gorge Region will sponsor four VIP passes valued at $325 each.
Canon City Main Street Merchants are donating a basket with valuable gifts from their downtown merchants. The Arkansas River Inn and Suites on Royal Gorge Boulevard in Canon City is donating another two night stay offering their family room valued at $230 for both nights. Starika's Carwash is offering a $100 gift card so the winner can keep their car "clean and shiny" whenever they come to visit the Royal Gorge. Great gifts also included are: two $25 gift certificates from My Jerky Shop, Colorado Springs, Free Zip line Pass valued at $89 from Captain Zipline Adventure Tours, located in Salida, and a small Gold Leaf and Glass art piece by Bill Debekker, 3rd Dimension Sign Company, Canon City, valued at $400. A one night stay at the Starlite Campground, located at the entrance to the Royal Gorge, in a professionally restored vintage travel trailer, value $109, will complete the package.
The Royal Gorge Bridge & Park is home to one of the world's highest suspension bridges and the world class attractions the Incline Railway and the Aerial Tram. During Peak tourist season the park has over 20 rides, shows, and attractions. For more information and park hours please call 888-333-5597 or visit http://www.royalgorgebridge.com
Media Contact:
Peggy Gair
pgair (at) royalgorgebridge (dot) com
Human Resource and Public Relations Manager
Royal Gorge Bridge and Park
PO Box 549
Canon City, CO 81215
Tel: 719-276-8347 Fax:719-269-3501
###