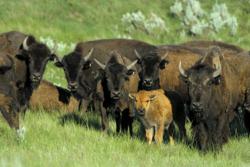 "Our Government is thrilled to participate in this contest," said the Honourable Peter Kent, Canada's Environment Minister and Minister responsible for Parks Canada.
Toronto, Ontario (PRWEB) November 02, 2011
The Bison Collaborative, comprising the Royal Ontario Museum (ROM) (http://www.rom.on.ca), the Toronto Zoo (http://www.torontozoo.com), Parks Canada (http://www.parkscanada.gc.ca), and Earth Rangers (http://www.earthrangers.com), launches an interactive contest and educational initiative to enlighten Canadians about bison, the grasslands where they live, and the role we all play as stewards of the Earth. Running from November 2, 2011 to February 25, 2012, the Find the Baby Bison! Contest challenges participants to locate a baby bison icon physically hidden at the ROM and the Zoo, and online at the collaborating institutions. The Grand Prize is an all-inclusive trip for four to Grasslands National Park of Canada in Saskatchewan. Visit http://www.findthebabybison.com for more information, full contest rules and prizes.
"Our Government is thrilled to participate in this contest," said the Honourable Peter Kent, Canada's Environment Minister and Minister responsible for Parks Canada. "Two hundred years ago, seeing a bison may have been a commonplace occurrence for children of the plains. Today we are fortunate that there are places like Grasslands National Park where we can still experience the awe and wonder of seeing these magnificent creatures in their native habitat. We are proud to be a part of making that meaningful experience possible."
"Our aim here to make the conservation of nature fun and interactive," said Dave Ireland, Managing Director of Biodiversity Programs at the ROM and Chair of the Bison Collaborative. "Challenging our audiences to come to the Museum or Zoo or visit partner websites with a goal to find the baby bison will, we hope, inspire them to learn about and share the importance of protecting one of Canada's most important ecosystems."
The Find the Baby Bison! Contest challenges participants 5 to 18 years of age to locate a lost baby bison and help reunite it with its herd. Two-dimensional life-size cut-outs are hidden at one of several locations within the ROM and at the Toronto Zoo, and virtual images of the baby bison graphic are concealed on all Bison Collaborative websites. Hints as to the whereabouts of the hidden bison are provided at the ROM and Toronto Zoo as well as on http://www.findthebabybison.com. Once located, the participant can submit a photo online or paper ballot in person identifying the bison's hiding spot. Online entry is available at the Zoo. The final winner will be chosen randomly by a draw from all received entries. In addition to the Grand Prize trip to Grasslands National Park, several secondary prizes are available, including exclusive behind-the-scenes experiences at the ROM, the Toronto Zoo, and the Earth Rangers Centre.
Currently identified as Threatened by the World Conservation Union, Plains Bison are North America's largest land animal. More importantly, they are a keystone species of Canada's grassland ecosystem, and help maintain the specialized habitat upon which so many other species depend. In the 1860s, there were an estimated 30 million wild Plains Bison in the grasslands of North America, but by 1902 only 25 remained in Yellowstone National Park. Commercial and sport hunting by non-natives, First Nations and Métis for meat, hides and trade products decimated the herds. Private citizens began managing herds of wild bison in the late 1880s, and the commercial bison industry began in earnest around 1980. Currently there are 350,000 commercial bison in North American, and an estimated 35,000 wild bison in protected areas like Grasslands National Park in Saskatchewan.
The Bison Collaborative is a shared initiative that aims to educate Canadians about bison, and the importance of preserving their delicate ecosystems. Member organizations of the Bison Collaborative bring different and important strengths to the partnership from evidence-based scientific research and authoritative curriculum-based education programs, to community outreach and advocacy.

Contest closes February 25, 2012 at 12 am EST. Open to all residents of Canada, excluding Quebec. One grand prize (approximate value $6,000.00 CDN) and seven secondary prizes (approximate value $150.00-$200.00 CDN) to be won. Odds of winning depend on total number of eligible entries received. Winners must correctly answer a mathematical skill testing question. No purchase necessary. For full contest rules, visit http://www.findthebabybison.com.
# # #