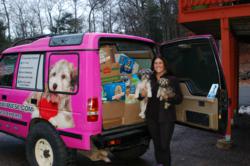 We will continue to give back all we can to our community!
Charlestown, RI (PRWEB) January 16, 2013
Royal Flush Havanese, local dog breeder of Havanese puppies, collected over 4000 canned goods in 2012 for RICAN, the Rhode Island Center Assisting Those in Need. On Tuesday, January 15, 2013 the largest donation to date of 1094 canned goods was delivered to RICAN, the local food bank.
In an innovative discount plan, Royal Flush Havanese gave a $100-$300 discount off the price of each Havanese puppy in exchange for a donation of canned goods for RICAN. Buyers were eager to help support this cause and were happy to involve their children, heightening their awareness of the needs of those less fortunate.
In 2011, Royal Flush Havanese collected over 2000 canned goods for RICAN. With great success and appreciation both from RICAN and the families who were contributing to the food bank drive, it was decided to extend the drive for another year, never expecting half the success it generated in 2012.
Moving forward in 2013, the focus will be on supporting the Leukemia and Lymphoma Society in the hope of finding a cure for these cancers which have affected members of the Royal Flush Havanese family. Every new Havanese puppy parent will receive a $100 discount off the price of their Havanese puppy with a donation of $15 to LLS.
Royal Flush Havanese provides Havanese puppies born, raised and loved in their home. They are BBB accredited and boast and A+ rating. BBB reviews describe the integrity, responsiveness and trust one can expect when purchasing a puppy from Royal Flush Havanese.