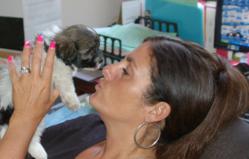 Everyone can help cure cancer. A lot of small steps lead to leaps in progress. Please help us support the Leukemia and Lymphoma Society.
Charlestown, RI (PRWEB) November 28, 2012
Holly Mastroianni is determined to raise $5000 for the Leukemia and Lymphoma Society by giving the organization $1 for every like on Royal Flush Havanese's Facebook page. Recently the first step of 200 likes was reached. Supporting the mission of LLS in of itself is a very worthy cause, but since this cancer has effected members of the immediate family, Holly Mastroianni is empassioned with helping to find a cure, improve the quality of life of those who are fighting a battle with these blood cancers and also to provide support to family members.
At Royal Flush Havanese there is a constant effort to help the community by assessing the needs of neighbors and planning a campaign to offer concrete help. According to Holly Mastroianni, "when we launched the Royal Flush Havanese Facebook campaign to raise $5000 a couple of months ago, I thought within a week we would reach our goal of 5000 likes and I would be writing the check to the Leukemia and Lymphoma Society immediately for $5000! I assumed that everyone who heard about the campaign would be happy to help us make this huge donation because all it would take is less than a minute of time to like Royal Flush Havanese on Facebook and that would be just a small way to help cure cancer." Anyone can share the plan and spread the word easily to all their contacts and friends. 5000 likes equals $5000 to LLS.
Royal Flush Havanese is a Rhode Island Havanese breeder providing, quality, home born, raised and loved Havanese puppies for sale. Puppy health is guaranteed for 6 years and a large discount is given if canned goods are donated to the Food Bank Drive to support RICAN, The Rhode Island Center Assisting Those In Need. Royal Flush Havanese is BBB accredited and at the time of this article's publication they have an A+ rating.