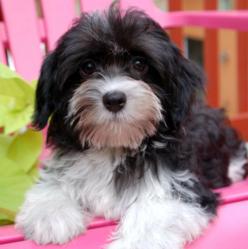 Smart, adaptable, quick to housebreak, easy to train, eager to please, hypoallergenic, non shedding and excellent with children. What more could you ask for in a puppy?
Charlestown, RI (PRWEB) January 31, 2013
Royal Flush Havanese is pleased to dispell several negative myths buyers stumble upon while searching for Havanese puppies for sale. As potential havanese puppy buyers surf the web for information about this "too good to be true" breed, they are confronted with information written by novices who may have had a negative experience and erroneously extrapolate that their issue is inherent in the breed. The Havanese Experts are happy to provide the realities of this amazing family companion.
Myth - Havanese puppies are difficult to housebreak.
Truth and Tip - Havanese puppies are very intelligent and housebreak very quickly and easily. Mistakes made by pups in the housebreaking process can almost always be traced to mistakes made by new Havanese puppy owners. Royal Flush Havanese has written step by step housebreaking instructions for new puppy owners. Due diligence equals excellent results.
Myth - Havanese puppies are yappers.
Truth and Tip - Havanese puppies are not big barkers. They are a relatively quiet breed. If new owners encourage a pup to be noisy and create an highly excitable environment, it is quite possible that the puppy will be more vocal than usual. When there is a tone of calm in the household and barking is ignored and discouraged, this breed is it's quiet self.
Myth - Havanese puppies are chewers.
Truth and Tip - Havanese puppies are not usually interested in chewing anything but their toys. If havanese puppies have toys to chew on and play with then that will be their preference. If a pup attempts to chew anything off limits, offer him his toy and he will quickly understand what he is allowed and not allowed to chew.
The Havanese is an extremely smart breed that lives to please his owner. Take the time to teach him right from wrong starting the day he comes home. Early efforts will be justly rewarded.
Royal Flush Havanese raises healthy, happy Havanese puppies in their home. All puppies are born and loved in house at Royal Flush Havanese. They are the only dog breeder in RI BBB accredited and boast an A+ rating. Like Royal Flush Havanese's Facebook page and they will make a donation to the Leukemia and Lymphoma Society.