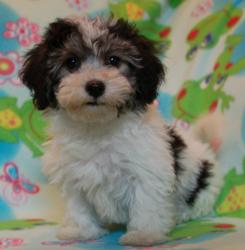 We always love to see all the wonderful pictures you have of your beautiful Havanese!
Charlestown, RI (PRWEB) December 20, 2012
Royal Flush Havanese Facebook Holiday Havanese Photo Contest is open to any holiday photos that include an Havanese puppy or dog. The photo with the most likes by noon December 26, 2012 will receive $100.
Simply go to Royal Flush Havanese's Facebook page and post original holiday Havanese photos and feel free to like many of the photos already posted! The winner of the contest is the holiday photo with the most likes and the prize is $100.
Royal Flush Havanese's Facebook page is a wonderful medium not only for sharing amazing pictures of Havanese puppies and adults but also for sharing experiences with this awesome breed.
This is a happy, informative, feel good site that lifts spirits and illicits smiles from all visitors.
The company is BBB accredited with an A+ rating at the time of publication of this article. Every puppy buyer becomes an extension of the family and Holly Mastroianni, owner of Royal Flush Havanese is available for lifetime support 365 days a year, standing by each and every puppy placed.
Royal Flush Havanese also tries to give back to the community all that is possible. Like Royal Flush Havanese's Facebook page and for each like the company will donate $1 to the Leukemia and Lymphoma Society.