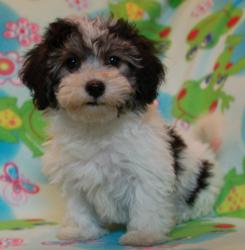 You should feel completely comfortable with your breeder and know they will be there to support you while you raise your Havanese puppy!
Charlestown, RI (PRWEB) October 11, 2012
Royal Flush Havanese Puppies For Sale reviews helpful tips on finding the right Havanese Breeders to insure the best choice in the next canine member of the family. This decision affects the household for many years to come and can be a pleasant, life-enhancing experience or a nightmare.
A good Havanese breeder takes the time to understand the individual needs of each person or family investigating the purchase of a Havanese puppy. There is no opportunity to click a link to make a puppy purchase until there has been an adequate interaction between buyer and seller.
A good Havanese breeder is available well after the purchase of a puppy to support and guide each new owner in order to have the best experience possible. The breeder is experienced in the idiosyncracies of the breed, aware of the health issues common to the breed and adept at training and behavioral solutions for any difficulties that may arise.
A good Havanese breeder goes to great lengths to feed the most nutritious diet and supplements, provide more than adequate exercise and socialization, tolerate nothing less than an immaculate environment, maintain a comprehensive grooming routine, and insure that every individual adult and puppy is up to date on required shots and recommended preventative treatments.
A good Havanese breeder would never sell through a third party or ship via any means. The stress a puppy would be exposed to should be reason enough but there is also concern for the physical health of the puppy and what diseases that puppy's immature immune system may be exposed to during travel.
Great Havanese Breeders will do all of the above and send each puppy home with a health record, directions for feeding and care and a written health guarantee.
Royal Flush Havanese Puppies For Sale is the only dog breeder in Rhode Island with Better Business Bureau accreditation and maintains an A+ rating as of the publication of this article. The BBB only allows reviews from real customers who have done business with the company within 3 years, unlike other review sites that allow anyone to post anything without verification. Angie's List provides dependable reviews for plumbers and the BBB provides the same dependable reviews for dog breeders.