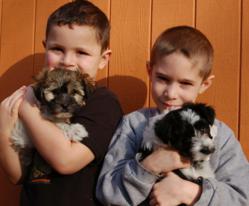 Everyone who has brought home their second or third puppy from Royal Flush Havanese could never imagine life without them!
Charlestown, RI (PRWEB) May 09, 2013
Royal Flush Havanese reviews the benefits of adding a second dog to the family. Both humans and dogs reap many benefits. Of course there are twice the costs and twice the responsibilities, so is it really worth the positive effects?
To understand the benefits, it is important to realize what adding a dog to a home where there is already a dog present, will not do. It will not break a dog of his bad habits. In fact, the current dog could teach a new dog bad habits. It will not make a sick, old or injured dog feel better. On the contrary, the new pup will be an annoyance. It will not make an antisocial dog more friendly but it could make him more fearful and more aggressive.
Many people have brought home two female Havanese puppies who get along well throughout their lives. The best choice of coupling in our experience has been two neutered boys, followed by a neutered boy with a spayed girl, and lastly two spayed girls. Whatever the breed, ask the breeder their opinion based on the experiences they have had and heard about with their puppy owners throughout the years. Every breed is different, but unspayed girls can be absolutely brutal with each other.
Choose dogs that are relatively close in age. Royal Flush Havanese has never had a complaint about two pups going home together that did not get along. Taking home 2 pups at once is more work initially, but the puppy stage will be over soon and won't need to be repeated. If the preference is to get one at a time, try to have them as close in age as possible. A 10 year old dog may not appreciate the energy of a puppy. Don't wait for the current dog to get old.
Time must be spent training each dog individually and both dogs need to know that the humans in the family are the alpha dogs of the household. Dogs should be fed separately and should have separate areas to go to when they need some space. Be sure to provide two beds, plenty of toys and separate bowls.
There are great benefits to dogs to have another dog around. Usually two dogs can live together and share a home in peace and harmony. Dogs groom each other, play together and benefit tremendously from each others company. Dogs are pack animals and derive comfort from having a like kind pack member around, even though you are the leader of the pack. Dogs are usually less destructive when they are together because they have each other to play with and stay occupied. Having two dogs often keeps both dogs eating well for fear of competition and in better shape because they are more active.
Finally, the greatest benefits to humans to having two dogs is that they are twice the fun causing twice the laughter and smiles and they offer twice the unconditional love to their families making owning two dogs twice as nice!
Royal Flush Havanese specializes in raising happy, healthy Havanese puppies available by application and appointment only. They are Better Business Bureau A+ and certified by the BBB as complaint free. Royal Flush Havanese provides support 365 days a year to their puppy owners.