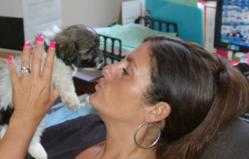 There are steps you can take to have less of an allergic reaction to your Havanese puppy.
Charlestown, RI (PRWEB) September 27, 2012
Royal Flush Havanese reviews complaints about why people are allergic to hypoallergenic dogs including Havanese puppies. Most people who suffer from dog allergies do NOT have an allergic reaction to hypoallergenic dogs. However, no dog is 100% hypoallergenic, therefore families looking to bring home a hypoallergenic dog should be aware of several factors that will determine how well they will tolerate their new addition. Royal Flush Havanese provides tips on keeping allergens to a minimum.
The proteins in saliva and dander may cause an allergic reaction. Hypoallergenic dogs have very little dander and most allergy sufferers tolerate them well. If the dog is constantly licking someone with a severe dog allergy, he may suffer some consequences. Even individual dogs within the breed produce different levels of proteins so one puppy may produce a reaction and another may not.
Size does matter. Smaller nonshedding dogs have less surface area and produce less allergens. If there are people in the family who suffer from allergies to pollen, mold, trees, grass, etc., a small dog will bring in less of these on his coat when he comes inside from playing outdoors. It will help to designate an area outside for the dog to do his business that is somewhat free from allergens.
Examine the ingredients in the dog food, vitamins and shampoo to be sure there is no allergy to any of these ingredients. If the dog is ingesting ingredients anyone in the family is allergic to, they will have a reaction as the dog licks and plays with them.
There are steps that can be taken to keep allergens to a minimum in order to enjoy your havanese puppy. Restrict the dog to certain rooms and clean those rooms often. Bathe the dog twice a week with a hypoallergenic shampoo if allergies are acting up. Clean the air filters at home more frequently. Discuss the possibility of allergy shots with an allergist. Be aware of the ingredients in anything the dog eats. A few less kisses from a happy Havanese puppy means a few less hives!
"In my experience, when new puppy owners have had an allergic reaction, which has happened less than 1% of the time, we have been able to narrow it down to a specific allergen and modify the situation so that every family member is able to enjoy their new puppy," claims Holly Mastroianni, owner of Royal Flush Havanese.
The company, Royal Flush Havanese is dedicated to producing quality havanese puppies for sale and providing its buyers with long term support as they raise their new Havanese puppies. Royal Flush Havanese is the only dog breeder in Rhode Island to be accredited by the BBB and boasts an A+ rating as of the writing of this article.