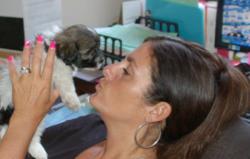 Every man, woman and child can find a simple way to give back to their community and make a positive impact in another person's life!
Charlestown, RI (PRWEB) August 15, 2012
Royal Flush Havanese will donate $1 to the Leukemia and Lymphoma Society for every "Like" they receive on Facebook up to $5000!
The Leukemia and Lymphoma Society is the world's largest voluntary health agency dedicated to curing leukemia, lymphoma, Hodgkin's disease and myeloma and improving the quality of life of patients and their families. In the fiscal year of 2010, $6 million was focused on pediatric cancer research.
Through Royal Flush Havanese's fundraising campaign, the goal is to raise awareness of these diseases, raise funds for research and patient support and encourage others to do what they can to support their community.
To help reach the goal of a $5000 donation to LLS and support those affected by blood cancers and their families please "Like" Royal Flush Havanese on Facebook through the following link: Like Royal Flush Havanese.
Royal Flush Havanese is the only dog breeder in RI that is BBB accredited. They provide deserving families with home born, raised and loved havanese puppies. Holly Mastroianni, owner, continues to pay it forward with innovative campaigns to support the community.