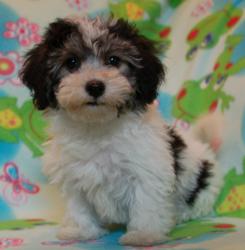 You can save your dog's life by taking a little time now to prepare for a disaster before it strikes.
Charlestown, RI (PRWEB) August 31, 2012
Hurricane season is upon us and for some people reading this, it may already be too late. Pet owners have probably seen the news videos of dogs being rescued from from flooded homes in Hurricane Isaac's path and want to know how to keep their dogs from being disaster victims. Royal Flush Havanese reviews tips on disaster preparedness for your dog to prevent him from being a statistic.
1. Make sure your dog is microchipped and always wears a collar or harness with his microchip tag and town license tags.
2. Always keep your dog up to date on vaccinations.
3. If you need to evacuate, know where the nearest shelter is or have a designated evacuation site. If this shelter or site does not allow dogs, have a prearranged place to bring him where he is accepted, such as a relative's home or pet-friendly motel.
4. Each dog should be in his own carrier clearly marked with all of his and your information. Even if your dogs have shared a crate in the past, an emergency situation could stress them out and cause them to be more agitated than usual.
5. Prepare a Dog Evacuation Kit including:
a. Photocopies of all veterinary records
b. Copies of all registrations and proof of ownership
c. A two week supply of food (rotate every 2 months) and directions for feeding
d. A 2 week supply of water (rotate every 2 months)
e. Can opener if you use canned food
f. Emergency contact list including your Vet, alternate Vet, pet-friendly motel, relatives, local animal shelters, police, fire and Red Cross
g. Medications including directions and name of pharmacy (rotate every 2 months)
h. Leash and collar
i. 2 non-spill bowls
j. Paper towel
k. Spoon
l. Garbage bags
m. Dog bed and toys
n. Flashlight and batteries
Holly Mastroianni, owner of Royal Flush Havanese suggests "you should evacuate as soon as possible. Put your dog in his carrier. Load the carrier and evacuation kit into your vehicle and call your prearranged evacuation place to give notice of your arrival."
Royal Flush Havanese encourages owners to take the time now to prepare an emergency kit for dogs in the event of a disaster. Royal Flush Havanese not only specializes in havanese puppies for sale but the company also provides ongoing support to pet owners everywhere to help them raise and train their puppies and keep safety as a high priority for their dogs. BBB accredited, Royal Flush Havanese continues to maintain the highest standards of trust, honesty and integrity in its business practices earning an A+ rating as of the date of this publication.