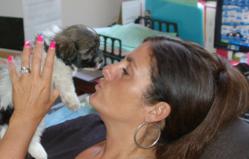 We receive emails daily from puppy owners expressing how much of a positive influence their puppy has made in their lives!
Charlestown, RI (PRWEB) April 30, 2013
Royal Flush Havanese reviews the many benefits of dog ownership. Both adults and children can have positive health and social benefits from owning a dog.
Dogs have a calming effect. Positive Interactions with dogs lower levels of the stress hormone, cortizol and increase levels of the feel good chemical, seratonin. People with Alzhiemers have fewer episodes. Children with Autism are able to focus their attention longer while interacting with a dog.
Dogs help fight depression. They are available to cuddle and show love and help detract from negative emotions.
Dog owners have lower blood pressure and heart rates which decreases the risk of heart attack or other cardiac event.
Dogs provide a great reason to exercise. Not only does exercise keep your heart healthier but time in the sunshine enables more vitamin D absorption which is good for your bones.
Children who grow up with dogs have a higher level of immune system chemicals, more immunities and a healthier immune system.
Children also get more exercise with pets which can lead to an easier time falling asleep.
There are many more benefits of dog ownership than just what is mentioned here. Royal Flush Havanese hears from their puppy buyers daily about what a positive influence each puppy has make in people's lives.
Royal Flush Havanese raises healthy, happy, gorgeous Havanese puppies available to competent dog lovers. Royal Flush Havanese is accredited by the BBB, boasts an A+ rating and is certified complaint free by the BBB.