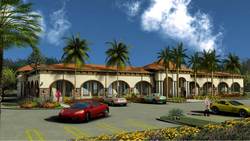 Now that approximately $6 million in financing is secured, we plan on beginning construction next week of this medical comdominium
Coral Springs, FL (PRWEB) March 6, 2008
Just what the doctor ordered, a new Coral Springs medical condominium building is breaking ground. Florida commercial real estate developer and commercial property specialist, Bayshore Land Group, announced today the closing of its construction loan with CityNational Bank; funding its latest medical condominium project, Royal Palm Square.
"Now that approximately $6 million in financing is secured, we plan on beginning construction next week of this medical comdominium," said Jay Fertig, President of Bayshore Land Group, parent company and developer of Royal Palm Square. "This Class "A" medical condominium office project caters to medical professionals looking to buy customized commercial office space for their medical practices along with diagnostic and surgical centers of all sizes. Interest from doctors and dentists has been keen over the past several months."
Located in downtown Coral Springs, Royal Palm Square is the newest medical condominium building in the area offering 25,000 square feet of Class "A," medical/professional/condominium office space. There are 18 units available priced at preconstruction prices from as little as $249 a square foot. As the only one story commercial office building in the immediate area, buyers will appreciate the convenience of their own private entrances and full medical parking. The Mediterranean-style setting allows tenants full flexibility of design and amenities and custom build out options including marble tile, granite countertops, and wood cabinetry.
Dr's Jurado and McEachrane plan to move their OB-GYN practice to Royal Palm Square medical condos upon its completion and stay there for the long term. With its central location, this new office is ideal for their patients, just minutes from two hospitals and in the heart of one of South Florida's suburban mecca's.
"Buying commercial office space was a better investment than leasing and the 3,000 square feet of medical space will provide room for our practice to grow," said Dr. Carlos Jurado. "I was impressed with the amenities, location and value of Royal Palm Square and I am excited to move our practice to this beautiful new building."
Benefits of Owning at Royal Palm Square
1. Lower costs versus leasing - owning can save in excess of 31 percent or more over the life of a lease plus potential appreciation
2. Long-term investment potential
3. Act as your own landlord while practicing medicine or dentistry - just what the doctor ordered
4. Availability of Small Business Administration (SBA) financing, an attractive financing plan for interested buyers
For more information about the location and sales of Royal Palm Square visit: http://www.RoyalPalmCS.com or call (305) 445-6161 and speak to Jay Fertig. Royal Palm Square is located at: 8800 Royal Palm Blvd., Coral Springs, FL, 33065. , Florida commercial real estate developer
About Bayshore Land Group
Bayshore Land Group, Inc is a full service real estate development and investment management company providing targeted site acquisition services, entitlement administration and commercial/residential development capabilities. Owners Jay Fertig and Chris MacNair specialize in projects throughout Florida, both in mature and developing markets, with a keen eye towards identifying underutilized and undervalued real estate. Bayshore's clients include nationally known end-user retail tenants and many medical professional users. Bayshore just completed 60,000 square feet of medical space on Florida's West Coast with 24,000 additional square feet in the planning stage.
###