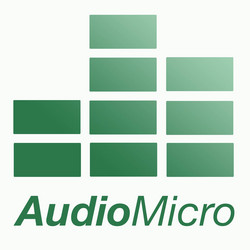 AudioMicro provides creative composers with a new way to bring their work to market
Los Angeles, CA (PRWEB) March 3, 2009
AudioMicro.com announces the addition of over 170 original scores by "Family Guy" composer Ron Jones, as the online music and sound effects library surpasses the 50,000 track milestone.
The addition of Ron Jones' collection permits the popular composer's work to be available for use in everyday video projects from YouTube movies to short films, all at affordable licensing fees as little as $1 per minute. Central to the deal is Mr. Jones' belief in the advancement of music placement opportunities for composers through open-minded, crowd-sourced collaboration - the underlying principles of the "micro stock" licensing model.
"AudioMicro provides creative composers with a new way to bring their work to market," said Jones. "With this service the composer can bypass the middleman and go directly to the end-user. That is a huge leap forward for composers. You can decide what you want to create and get it out there today. That is freedom. This is a revolution."
Now in its eighth season, Ron Jones continues to score the "Family Guy", which garnered an Emmy nomination for "Best Original Song". The show is well known for its hilarious musical melodies, parodying popular tunes with outrageous, satirical, comedic lyrics. "Family Guy" characters frequently break out in song and dance routines that are underscored with Mr. Jones' compositions.
The 170 original tracks available on AudioMicro.com contain a range of styles from melodic music cues and bumpers to full-scale compositions. The addition of Mr. Jones' collection brings the royalty free music library's total track count to over 50,000 clips, all pre-cleared for use in creative audio-visual productions.
About AudioMicro:
AudioMicro is the largest collection of user-generated micro stock music, royalty free sound effects, production music, and music cues. The platform offers advertisers, music supervisors, creative directors, webmasters, filmmakers, and "YouTubers" an affordable, quality solution for appropriately securing sync music for use in creative audio-visual projects. With content purchased from AudioMicro, a movie or webisode can be scored at a fraction of the cost of a traditional production library. The AudioMicro collection is an ever-expanding archive of pre-cleared tracks from publishers, composers, independent bands, and sound designers worldwide.
About Ron Jones:
Ron Jones is an award-winning composer with a rich background and an extensive track record for writing top quality music for television and film. He has scored hundreds of animated shows for Hanna-Barbera and Ruby Spears, including hits like "The Flintstones," "The Smurfs," "The New Adventures of Scooby Doo" and "Superman." He was selected by Disney's music head to score the hugely successful "Duck Tales" and this success led to a relationship with "Star Trek: The Next Generation." Butch Hartman later hired Ron to write the theme for his cartoon, "The Fairly Oddparents" which won the coveted BMI Film/TV Award for Most Popular Television Theme two years in a row.
Media Contact:
Ryan Born
AudioMicro, Inc.
audiomicro (at) audiomicro (dot) com
800-804-2171
###