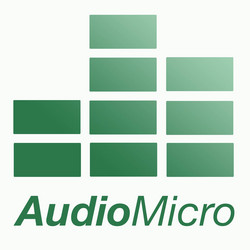 Los Angeles, CA (PRWEB) August 7, 2008
AudioMicro.com today announced that its licensing platform now offers a subscription service which provides access to its library of user-contributed micro stock music and sound effects.
Subscriptions are available for one month, three months, and one year, and allow subscribers to download up to 25 tracks per day, including mp3, wav, and aif broadcast quality files. The AudioMicro.com subscription service was launched to serve the needs of high volume micro stock music buyers including advertisers, video game developers, music supervisors, sound designers, webmasters, filmmakers, and online video creators. AudioMicro.com now enables content buyers to purchase pre-cleared music and sound effects from its ever-growing library by both individual file download and subscription for use in their creative projects.
Simultaneous to this announcement, the user-generated, royalty free music archive revealed new multi-lingual capabilities which enable customers and artists to translate portions of the site into six different languages - English, Spanish, French, German, Italian, and Russian. Chinese, Japanese, and Portuguese will follow shortly. AudioMicro.com houses thousands of tracks from foreign publishers, composers, and sound designers and licenses to a worldwide audience of commercial music clients including short filmmakers, local television stations, radio advertisers, post-production houses, video bloggers, podcasters, and "the YouTube crowd".
For additional information contact:
Gideon Black
AudioMicro.com
Business Development Manager
(818) 849-6396
gideon.black (at) audiomicro.com
About AudioMicro:
AudioMicro is the largest collection of user-generated royalty-free stock music, sound effects, production music, production elements and music cues. Finally, high quality audio content is available at unbelievable prices with no hidden costs or fees. AudioMicro is an artist friendly community, paying the highest royalty rate in the micro stock music industry. In addition, customers can purchase AudioMicro content at the most competitive rates available. Sign up and start contributing and licensing content today.
###