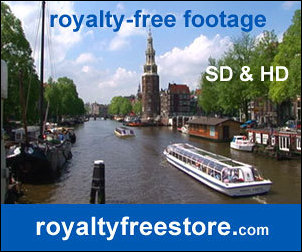 Royaltyfreestore.com can save a producer thousands of dollars on one clip alone, not to mention valuable time. And when you consider that most productions contain hundreds of clips, the potential cost savings of royalty-free stock footage is quite profound
Portland, OR (PRWEB) November 14, 2006
Once in a while, a bold newcomer comes onto the scene and you just know they are going to be very successful. Take for example Royaltyfreestore.com, a new purveyor of premium-quality, royalty-free stock footage for the broadcast and advertising industries. Beauty and quality are not mere buzzwords here, for them it is their passion and focus.
Founded by veteran multimedia and video production expert, Charmaine Anderson and two years in the making, Royaltyfreestore.com offers broadcast-quality royalty-free stock footage collections in both SD and HD in QuickTime* format on data DVDs. Their focus is on providing beautiful, rare, premium-quality stock footage to broadcast television and advertising industry professionals. Just take one look at their Web site and you'll be inspired to bookmark it as another great resource for your video production needs.
The clear advantage of using royalty-free stock footage is that it offers rapid deployment and dramatic cost savings to a production company. When compared to the exorbitant cost and hassles associated with rights-managed footage, royalty-free footage can be a blessing to the harried producer. It can save significant time normally spent obtaining clearances and negotiating extremely high fees and usage rights. Royalty-free stock footage also allows a producer to buy once and use as often as they like and often has broader usage rights.
"Royaltyfreestore.com can save a producer thousands of dollars on one clip alone, not to mention valuable time. And when you consider that most productions contain hundreds of clips, the potential cost savings of royalty-free stock footage is quite profound," said Charmaine. Royaltyfreestore.com offers collections of clips for maximum cost savings. Each collection contains a variety of shots that are relevant to a specific theme or location.
Royaltyfreestore.com offers an impressive library of international footage in both standard definition and high definition video formats featuring gorgeous shots of international locations such as Holland, the Swiss Alps, Germany, Austria, France, Italy, the U.S. including scenic locations such as Lake Tahoe and the Smoky Mountains and more. The royalty-free stock collections aren't just eye-candy either, they also offer video content that can fill a wide variety of production needs. Their footage library also features collections of establishing shots of cities, transportation, infrastructure, ghost towns, nature, holidays, seasons, water in motion, boating, air shows and mouth-watering food.
Royaltyfreestore.com currently offers over 62 collections on data DVDs in both SD and HD and they are aggressively growing their library. Recently they have also been acquiring additional HD content from another talented videographer, Robert A. Nelson who specializes in shooting rare and unique footage in remote locations, such as ghost towns, volcanoes, desert wilderness, rugged nature as well as infrastructure. He has a talent for capturing powerful imagery with unusual angles-often from dizzying heights.
The Royaltyfreestore.com Web site is intuitive and offers frame-accurate QuickTime previews of royalty-free video clips and a secure ordering engine. It also offers useful technical information on high definition video, an industry related Videographer and Filmmaker Resources page encouraging reciprocal links and a Stock Footage News page that announces new and upcoming video collections.
Royaltyfreestore.com offers creative professionals another viable option for premium quality royalty-free stock footage. Video content this good will definitely give your production a competitive advantage and make it memorable.
For more information visit the Royaltyfreestore.com Web site at Royaltyfreestore.com
Contact:
Charmaine Anderson
Royaltyfreestore.com
13500 SW Pacific Highway, #144
Tigard, OR 97223
(503) 277-9844
© 2006-2007 Royaltyfreestore.com. All Rights Reserved.
Quicktime is a registered trademark of Apple Computer, Inc.
###