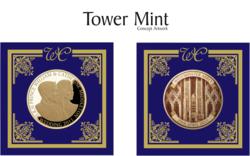 We are delighted to announce The U.K .Gift Company as our sole exclusive Royal Wedding Coin online sales partner.
Northampton, United Kingdom (Vocus/PRWEB) February 03, 2011
Royal Wedding memorabilia makers have reported a surge in Internet orders ever since Wills and Kate announced their wedding date. However, there are a number of small, more traditional producers in the U.K. with limited e-commerce capabilities that are rapidly seeking ways to make their Royal Wedding collectibles available to a wider audience.
In one case, a unique partnership between Church's China, the U.K.'s longest-operating Royal commemoratives retailer, and the Tower Mint, its leading minter of proof coins, will give Royal Wedding enthusiasts access to memorabilia that could previously be purchased only in the U.K.
Gray Duke, sales & marketing manager of London's Tower Mint explains, "The Mint had been receiving hundreds of telephone and e-mail inquiries from around the world seeking our Royal Wedding coin. The issue is we don't have an online shopping facility. We recognized The U.K. Gift Company as one of our top retail partners and reached out to see how we might meet the demand together."
Stephen Church, fifth-generation general manager of the 152-year-old Church's China and its Internet division, The U.K. Gift Company, suggested a direct link from the coin as it appears on the Tower Mint site to the coin on The U.K. Gift Company e-commerce site. Church says, "This enables customers to purchase the coin with a few clicks of a mouse. There is no longer a need to pick up the phone or send an e-mail."
Church notes that The U.K. Gift Company has already sold several hundred of the coins to customers, many of which are located in North America, Japan, and New Zealand. Now that the link is in place, he expects coin sales to more than double based on the number of inquiries The Tower Mint has received thus far. "The link has been live for just 24 hours and we've already seen a big upturn," Church adds.
Duke says, "We are delighted to announce The U.K. Gift Company as our sole exclusive Royal Wedding Coin online sales partner. One hundred and fifty-two years as the Royal commemorative gift specialist in itself is such an amazing and high quality pedigree that it represents a natural alliance for The Tower Mint."
The Royal Wedding commemorative coin is crafted in gold plated solid brass and measures 1.5 inches across. The front of the coin bears the profiles of Prince William and Catherine Middleton. The back of the coin is engraved with an image of Westminster Abbey and inscribed with the April 29, 2011 wedding date. The coin is set in a royal blue mounting trimmed in gold leaf filigree and bearing the initials of the Royal couple. The piece is presented in a sealed acrylic box where it may remain preserved as an heirloom. The U.K. Gift Company retails the coin for $11.91. Shipping to the U.S. and other destinations worldwide is an additional $5.
Church adds, "The coin is one of our most popular Royal commemoratives, and The Tower Mint is a highly-regarded institution here in U.K. I am honored that the Mint selected The U.K. Gift Company as its partner in making this exceptional commemorative available to online customers."
The Tower Mint was established by designer and sculptor Raphael Maklouf and a group of sculptors formerly of The Royal Mint. Maklouf is best known for his effigy of H.M. Queen Elizabeth that appears on all coin currency of the U.K. and its Commonwealth countries. Originally based within the Tower of London, the company is the official minter of the Government of Gibraltar for legal tender and commemorative coins. For more information, visit http://www.towermint.co.uk.
Church's China, established in 1858, sells a wide range of china and other collectibles. Specializing in royal commemorative memorabilia, the company has as an online division, The U.K. Gift Company, as well as retail locations in Northampton and Market Harborough, United Kingdom. For more information, visit http://www.theukgiftcompany.com.
Media Note: If you would like to arrange for a telephone interview with Stephen Church, please contact Nancy Marshall at nmarshall(at)marshallpr(dot)com or Jennifer Boes at jboes(at)marshallpr(dot)com. Mr. Church will also be available for live interviews in New York City at some point in March 2011. If you are interested, please follow up with Nancy or Jennifer at the emails above.
Editor's Note: Click on the link below in order to access a downloadable version of photo. http://www.marshallpr.com/nmc/photos/releases_882_1_o.jpg
# # #