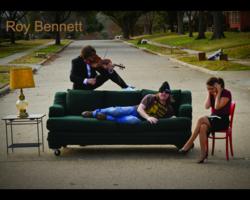 I can't say enough good things about this band! - Pegusus News
Dallas, TX (PRWEB) October 25, 2012
"The Four Part Trilogy: Movements From The Lower Region" is the second record from Dallas group Roy Bennett. Since Roy Bennett's successful 2007 debut record release, Onomatopoeia, the Roy Bennett band has been a busy bunch. In 2008, their song "I Sucked Today" was used by Neiman Marcus for some of its radio advertising, which lead Ben Templeton and D. Hayes Smith (main songwriters in Roy Bennett) to writing music for multiple tv and radio commercials. By the end of 2010 they found themselves in the independent movie business. Roy Bennett wrote the movie score and produced the album soundtrack to the motion picture, "Traveling," which had a successful run on the independent movie festival circuit in 2011. The band's latest release, "The Four Part Trilogy...," brings a wide collection of instruments lead to an eclectic mix of songs ranging from country influences to rock, with even a hint of electronica here and there.
The album has an array of musical styles, using a variety of instruments like harmonica, accordion, fiddle, saxophone, and mandolin to create a sound unique from most other albums out today. There are three tracks that particularly stand out through the use of these instruments. The first is "At The Motel," the album's fifth track. The song starts slow, but then the chorus comes in fast with a short and memorable hook, drawing the listener in with an electric riff that is purely infectious. The album's ninth track is the most outstanding song on the album, entitled "Writers And Riders," the slowest song on the album with a distinct mandolin and violin melody takes the listener on a delicate ride to the medieval period. On a separate note, "Verb In The Burb" has an eighties feel in the guitar and keys, with a bluesy harmonica thrown in with vibrance and colour. Listeners of "The Four Part Triolgy…" will be pleasantly surprised with the twists and turns the album has to offer.
The core of the band has always been lead writer Ben Templeton and experienced musicians D. Hayes Smith (The Ernies) and Collyer Spreen (Starship). On The Four Part Trilogy..., Roy Bennett has expanded the lineup, employing the exceptional guitar work of Taylor Tatsch (The Bright, Ryan Cabrera), Nolan Thies on bass (Calhoun, Little Black Dress, Deep Blue Something), and Milo Deering on pedal steel and fiddle (LeAnn Rimes, Jack Ingram). The Four Part Trilogy... was recorded by the band and mixed by the Grammy Award winning engineer/producer Stuart Sikes (Cat Power, Loretta Lynn, The White Stripes). Roy Bennett has hit their stride delivering songs with a variety of textures, maintaining an independent and dynamic feel.
You can learn more about Roy Bennett at http://www.roybennettband.com
If you have any comments or would like to set up an interview, please contact Melissa Zeigler: melissa(at)powderfingerpromo(dot)com.