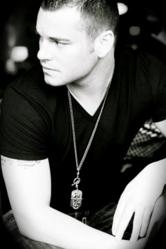 I used my craft to express my great pride in my 3 active military sons, their late grandfather who was a purple heart recipient and all who have served our country."
Grants Pass, OR (PRWEB) May 16, 2011
Memorial Day Tribute to History of The Dog Tag; Designer Honors 3 Active Military Sons and Their Grandfather / Purple Heart Recipient With Timeless ID Dog Tag
With three sons serving in the United States Air Force, designer Cynthia Mace of RoyceWare was inspired to craft the traditional military ID or "Dog" Tag into an edgy line of jewelry. "I used my craft to design a jewelry line that expresses my great pride in my 3 sons, and to symbolize protection and gratitude to all the past and present veterans who have or are now currently serving in our armed services." The designer notes that the ID/Dog Tag has been a symbol of protection that translates to a timeless fashion-jewelry statement and is of particular interest as we approach Memorial Day 2011.
HISTORY OF THE MILITARY DOG TAG

During the Civil War this was the first recorded incident of American soldiers making an effort to ensure that their identities would be known should they die on the battlefield. Some troops fashioned their own "ID" (identification) tags out of pieces of wood, boring a hole in one end so that they could be worn on a string around the neck.
First official advocacy of issuing identification tags took place in 1899 - an "identity disc" in the combat field kit evolved The Army Regulations of 1913 made identification tags mandatory, and by 1917, all combat soldiers wore aluminum discs on chains around their necks.
By World War II, the circular disc was replaced by the oblong shape familiar to us today, generally referred to as "dog tags."
Today's technology allows that 80% of a soldier's medical and dental data be held on a microchip
In recent years, a near perfect record of identifying service members who have died in the line of duty has been achieved, a far cry from the 58% rate of identification that stood during the Civil War. The ID tag has been and remains a major part of the reason for this record.
The Mace brothers' grandfather, retired Col. Wm. S. Mace: US Air Force, flew during WW II, the Korean War and in Viet Nam and was awarded the Distinguished Flying Cross and the Purple Heart.
Cynthia Mace, the Oregon based founder of RoyceWare Jewelry and Accessories, found her heart being pulled to the history and the message of the traditional military ID "Dog" Tag. "The result is her interpretation of the id tag toggled with tumbling charms including classic crosses, keys, fleur-de-lis, crowns and other life inspired symbols that represent the "Divine Protection" message.
"I believe everyone wearing a "Divine Protection" Tag is sending a message of protection and security to those they love, especially the members of our military. It's a piece of jewelry that connects the individual to someone to whom they offer support and protection. It's an American tradition designed in a fashionable, contemporary style."
Priced from $89 with select pieces to $400.
Media Contact:
Terri(at)hartmamediagroup(dot)com
phone: 813-767-7915
Marketing Contact:
vmraymer(at)gmail(dot)com
phone: 727-224-4332
Art and Samples Available Upon Request
Please visit http://www.RoyceWare.com or RoyceWare on Facebook
History of Military ID Dog Tag MASTER FINAL (3) May 13 (3)
Fashion jewelry designer Cynthia Mace and son Royce. Royce is one of three brothers serving as Air Men in the United States Air Force.