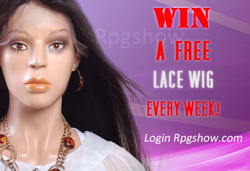 I am in love with it!!! It looks so natural, they (RPGSHOW.com) have the best service, and I am definitely a customer for life.
Nanjing, China (PRWEB) October 13, 2009
In celebration of their third anniversary, RPGSHOW.com has been giving away free wigs via an online contest. Due to the contest's overwhelming success, they are now extending their Free Lace Wig Wearing Campaign into November, and will be awarding eight additional lace wigs valued over $350 each.
RPGSHOW sells affordable high quality lace front wigs and full lace wigs. They are giving them away for a limited time only in an exciting online contest so you can experience firsthand the quality of their lace wigs. They are confident that once you do, you'll be a serious believer and a customer for life. There is nothing like personal experience, actually seeing, touching, holding and wearing a wig to know how natural and comfortable it really is. That is why RPGSHOW.com consistently exceeds their customer's expectations by improving the hair raw material quality they use.
Earlier this year, Rpgshow.com hired a new raw material supplier and greatly improved their production techniques. They aim to please their customers and to have the absolute best product anywhere, and they do. That is because they are continually striving to be the best in the industry.
The first person to win one of the free lace wigs in the contest, Shantell Elmore said, "I am in love with it!!! It looks so natural, they (RPGSHOW.com) have the best service, and I am definitely a customer for life."
In order to enter the contest, the participants need to have Facebook, MySpace or blog account and use one of them to invite RPGSHOW to be one of their online friends. The participants will need to provide name, email address, phone number and a brief description of why she or he would like to win one of their free wigs.
While only one contestant will win a free wig each week, all contestants will receive a coupon worth $20 just for entering the contest. The coupon will be returned by the same online means the contestant used to enter the contest.
The drawing will be held every Tuesday through the end of November, and the winner will be notified via email. At that time, they will need to report the size, length, color and other necessary information to RPGHOW.com.
There is only one condition for the winner and that is to post an article on their Facebook or MySpace account or post a blog regarding their experience and their opinion of the quality of the wig and the service provided by RPGWSHOW.com.
To learn more about the diverse selection of wigs they offer or to enter the Free Lace Wig Wearing Campaign and contest, visit http://www.rpgshow.com/free_wearing.html.
About Rpgshow.com
Rpgshow.com belongs to WAL-LAND Technology Co, Ltd.WAL-LAND Technology Co, Ltd is a professional human hair products manufacturer in China who was founded in 1999. In 2007 they built rpgshow.com to sell full lace wigs and lace front wigs. RPGSHOW.com sells high quality, pre-made and custom lace wigs ready for quick delivery all at an affordable price.
###