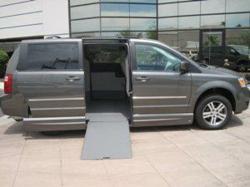 Conyers, GA (Vocus/PRWEB) March 24, 2011
R&R Mobility is expanding its options and its inventory for the year 2011, now offering home delivery, trade ins and a host of new 2010 vans. The company is not only offering home delivery in Georgia, but is expanding to territories within the Southeastern U.S. The company is also accepting trade-ins for refurbishment and offering rental packages.
The company now offers 2010 converted vans, using chasses of Dodge, Ford, Honda and Toyota full size vans and minivans. The company works with a variety of wheelchair lifts including the latest installations from Braun, Bruno, Ricon, Eclipse and B&D Independence.
R&R Mobility is based in Georgia, and has brought new opportunities to disabled drivers in Atlanta and the surrounding areas for over 30 years. However, the company is now expanding to the entire Southeast, with a large inventory warehouse for the south. The company states that it strives to meet the needs of the handicapped population in Georgia and throughout the Southeastern U.S. The welfare of the physically disabled in Georgia resonates with the company owners.
When the company started selling wheelchair vans in 1974, it had no competition and little market demand. However, the owner of the company was motivated to start a new market in Georgia, as his own family member was in a wheelchair. Over 30 years later, R & R Mobility has expanded from a backdoor garage company to one of Georgia's most successful dealerships.
R&R Mobility's new arrangements of home delivery and rental services will be able to benefit disabled drivers throughout Georgia, Alabama, and Tennessee and South Carolina. R&R Mobility hopes that disabled communities nationwide can have easier access to mobility vans and wheelchair lifts. With their new 2010 inventory and delivery options, the company is off to a revving start in returning independence to disabled drivers.
For more information on wheelchair vans in your area, contact http://www.RRVan.com/.
About R&R Mobility: R&R Mobility is a leading manufacturer in the wheelchair vans industry and has helped disabled drivers find converted vehicles since 1974. The company was the first mobility dealership in Georgia and is an authorized dealer representing many top conversion brands.
###