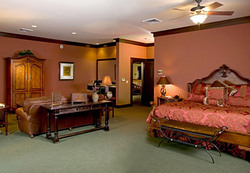 Prattville, AL (PRWEB) March 21, 2010
Reward yourself with a weekend getaway to the Marriott Montgomery Prattville Hotel & Conference Center at Capitol Hill and receive a $50 Visa gift card with your stay. In order to receive the $50 gift card, reservations must be made by April 4, 2010 with a Visa credit card and the stay must take place by April 18, 2010. For reservations or more information about the golf resort in Montgomery, Alabama, please call 334.290.1235.
Spending the weekend at Marriott Capitol Hill means endless relaxation, attention to your every need and immediate access to three internationally acclaimed Robert Trent Jones Golf Trail courses. The Marriott at Capitol Hill, featuring RSA golf in Montgomery, AL, is a lodge style resort that offers an unexpected level of privacy and intimacy in a wooded setting just 10 miles from the state capitol. The resort offers 74 guest rooms and two eight-room luxury villas, each accompanied by an attentive staff and personalized service. Guests seeking the ultimate experience in luxury should plan to stay in the 10,000 square-foot Presidential Cottage which includes five executive suites, private balconies, a lush garden and a private heliport.
The Marriott at Capitol Hill is the home of the Navistar LPGA Classic played each fall and was named the number two site for public golf in the country by Golf World readers. In addition to premier golf, 15,000 square feet of meeting space and 13 state-of-the-art meeting venues provide the perfect atmosphere for business and leisure travelers alike. For more information on the Montgomery Marriott Prattville Hotel & Conference Center at Capitol Hill, please visit http://www.marriottcapitolhill.com.
###