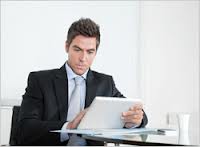 Businesses will need to prioritise additional equipment and training to protect their employees from RSI, particularly in relation to the introduction of tablets.
Bolton UK (PRWEB UK) 25 March 2013
The last few years have seen businesses seamlessly integrate tablets into their day to day functions. The recent Forrester report found that 66% of employees now use two or more devices every day; be it a traditional desktop, laptop, mobile or tablet. Using a tablet allows employees the advantages of increased portability and quick setups; while the business itself is considered innovative.
When compared to traditional desktop computers tablets seem to have their niche; employees are no longer constricted to the office and life enhancing technology will be welcomed with open arms.
Whether or not the welcome should be quite so warm is debatable. As quoted by the Independent, Doctors have already seen cases of Repetitive Strain Injury from individuals who spend just a couple of hours on their tablets each day.
The average office worker is aware of the health issues sitting at a desk all day can have. Using a keyboard and mouse can have implications and practices have been put into place to prevent RSI; Wrist supports and ergonomic keyboards are increasingly commonplace, with employers expected to cater to their employee's needs.
With tablets rapidly becoming acceptable work place technology, some consideration needs to be taken as to how they may impact our health and whether safeguards against industrial RSI need to be put into place.
RSI (Repetitive Strain Injury) may be caused by repetitive tasks, forceful exertions, vibrations, mechanical compression, or poor positions and postures for prolonged periods. Characterised by damage to musculoskeletal and nervous systems, the sufferer will experience short bursts of excruciating pain, weakness or numbness in the affected area. In relation to office workers, they will commonly experience issues located to their wrists, arms and forearms.
Using a tablet involves repeating a few very specific actions and bending over a small screen can put pressure on the back and neck. Over the last year complaints of 'iPad Shoulder ' have developed, where holding the tablet with one hand can cause the wrist to become strained, putting pressure on the shoulder.
If businesses are to continue to integrate tablets within the work place, it is important that their employees are aware of the effects prolonged use may have and how they can prevent RSI. Employers have a legal duty under the 'Health and Safety at Work Act, 1974' and the 'Management of Health and Safety at work Regulations, 1999' to prevent work related RSI and protect current cases from worsening.
While some symptoms of RSI may resolve themselves, some can become both prolonged and debilitating. The affliction can have profound consequences on the individual, affecting their general well-being, job satisfaction and performance.
Over the next couple of years businesses will need to prioritise additional equipment and training to protect their employees from RSI, particularly in relation to the introduction of tablets.
If you, or someone you know has been affected by occupational RSI speak to Asons today to find out about what kind of help is available.You can contact them on: 0844 850 1062 or you can fill out their claim form at http://www.asons.co.uk
About Asons Solicitors:
Asons Solicitors is a Bolton-based law practice that specialises in medical negligence claims, including RSI Claims. Founded by brothers Imran Akram and Kamran Akram, Asons Solicitors has evolved into a young and dynamic law firm that delivers practical solutions to clients in times of difficulty. Their continued focus on their staff has seen them awarded with the Investors in People "Gold Award"; which is reflected in the professional and personable approach they take in working with clients. They strive to grow and to develop, and their supportiveness and attention to detail ensures that their clients use them time and again.
For further information contact:
Email: info(at)asons(dot)co(dot)uk
Website: http://www.asons.co.uk