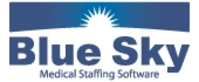 BlueSky is simple, easy to use, and doesn't require several hours of training to understand or pricey up front costs
High Point, NC (Vocus) October 29, 2008
RSI Medical Staffing has selected BlueSky Medical Staffing Software to manage business in its new Nurse Staffing Division in addition to help drive its nationally recognized Allied Health Division. Derek Petit, Chief Executive Officer, stated that after evaluating some of the leading medical staffing software, BlueSky stood as the best solution in class.
"BlueSky is simple, easy to use, and doesn't require several hours of training to understand or pricey up front costs," Petit explained. "We also gravitated towards its clean user interface. Other staffing software suffers from feature bloat, which makes them difficult to navigate through. Probably what we were most attracted to, was that it was programmed in .NET. Other solutions using outdated programming languages lend themselves to potential reliability issues."
BlueSky Medical Staffing Software is an enterprise level, Web-based software solution that assists healthcare staffing organizations streamline their work-flow and automate their on-boarding process for candidates. With BlueSky's integration of NurseTesting.com, the leader in clinical competency testing, and most recognized by healthcare facilities across the country, RSI can insure their candidates are the best qualified.
"Derek and his team at RSI are very technology savvy. We have implemented many of their suggestions and tools that have assisted them in their accelerated growth in the industry. It is quite a compliment knowing Derek and his team have shopped the staffing software market, and chose BlueSky as their solution," said Ron Gonzalez, CEO of Amistaff Healthcare Technology.
RSI Medical Staffing provides highly qualified, efficient, and professional medical imaging and nursing personnel to hospitals and clinics nationwide, while offering the best job opportunities and benefits to its employees in respected medical facilities across the nation. Visit http://www.RSIMedical.com for additional information.
About Amistaff Healthcare Technology:
Amistaff Healthcare Technology was founded in 2004 as a healthcare staffing solutions provider. Amistaff creates products and services that help healthcare staffing firms and hospitals improve recruitment, retention and placement of caregivers. Amistaff includes a team of IT professionals, RN's and former recruiters; this allows Amistaff to base their products on an in-depth understanding of each client's unique staffing requirements. All of the Amistaff products are web-based solutions designed to simplify workflows and increase efficiency. These products include NurseTesting, BlueSky Medical Staffing Software and eSigTek Electronic Signatures. Visit http://www.amistaff.com for additional information.
###