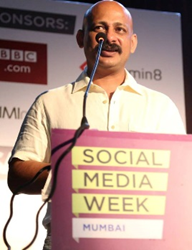 As GroupM we are delighted to continue our association with SMW. After a successful opening year in Mumbai and Bangalore in 2013, SMW is lining up an exciting fare this year.
Mumbai, India (PRWEB) September 01, 2014
Approaching its third edition in India and second edition in Mumbai, Social Media Week (SMW) has announced key speakers, who are set to captivate the audience this September, in Mumbai. The line-up of speakers includes social media influencers, bloggers, politicians, authors and international experts, each of whom will share their views on the domain, through presentations panel discussions, debates, workshops, and more. Some of the experts expected at the event, include:

Rishi Jaitly: Head, Twitter India
Vikram Menon: President & Countr Head, OgilvyOne Worldwide, India
Anaggh Desai:Co- founder, 1+99 Experience Consulting
Mohandas Pai: Chairman, Manipal Group
Raheel Khursheed: Head of News, Politics & Govt @TwitterIndia
Kunal Jeswani: Chief Digital Officer, Ogilvy & Mather India
Navdeep Suri: India's current Ambassador to the Arab Republic of Egypt
Sean Gardner: Forbes #1 Social Media Influencer, Author, Co- founder of the Huffington Post "Twitter Powerhouses Series"
Jeff Bullas: A Social Media Marketing Blogger, Strategist & Speaker, voted #14 Of Forbes Top 50 Social Media Power Influencer
Arvind Gupta: Hibernation Innovation Evangelist & The National Head of BJP's IT Cell
Deepali Naair: CMO, Mahindra Holidays & Resorts India Limited
Prem Panicker: Managing Editor, Yahoo
Vasantha Kumar: Director Marekting & Communication India & South Asia, IBM
Viral Oza: MD, Nokia India Pvt. Ltd.
Richard Lui: Asian-American journalist and news anchor for MSNBC and NBC News
Sanjay Tripathy: Sr.EVP Marketing, Digital & eCommerce – HDFC Life
Praveen Swami: National Editor, Strategic and International Affairs, The Indian Express.
Based on this year's theme for SMW, 'Social media for Social Change', the renowned speakers will share their insights and knowledge through various sessions, including those on managing diplomacy through social media, social media and politics, building a career in social media, and New age fight club-Social Media, Disruption & Viral.
Rohit Varma, Founder & Managing Partner, R SQUARE Consulting Services Pvt Ltd, said, "I'm very excited to see many organization & brands from different industries coming on board to curate sessions and making it the biggest crowd-sourced festival. Look forward to the five days social media festivity. I'm quite sure the there is lot more awaiting the audience."
"Social media and digital impact are changing the way brands function today. As an organization, we are strong believers of this platform, and have leveraged it successfully for clients across categories. We are proud to be associated with SMW's third stint in India, and look forward to engaging with marquee speakers at this platform, which connects people across borders and backgrounds; this year's theme of the impact of social media on social change, will definitely bring to light, some interesting perspectives on how digital India thinks," said, Nikhil Dey, President (Public Relations) at Genesis Burson-Marsteller.
The growing momentum of the initiative reflects in the number of sponsors, partners and speakers, who have come forward to support the event. Companies such as Microsoft (City Support Sponsor), Germin8, Unmetric, KPMG and Wrangler are sponsoring SMW 2014.
"As GroupM we are delighted to continue our association with SMW. After a successful opening year in Mumbai and Bangalore in 2013, SMW is lining up an exciting fare this year. As social media channels proliferate and become meeting grounds of brands and consumers, SMW provides a great platform for enhancing knowledge and sharing best practices," CVL Srinivas, CEO GroupM South Asia
In addition, SMW has partnered with leading media and integrated communication agencies, including Social@Ogilvy, chlorophyll, UB, TiE Mumbai, The Express Group, The Indian Networker, Construkt festival, mXm India, PageTraffic, AVID Learning, Yellow Seed Content Solutions, Fratelli wines and Steerttalk, to organise the event in India.
REGISTRATIONS STARTED
Register now to avail Early Bird Offer (Valid till Sept 5th)
Venue: Novotel, Mumbai
To Register Visit- http://socialmediaweek.org/mumbai/schedule/
About R SQUARE Consulting:
R SQUARE Consulting is one of the fastest growing marketing firms focusing on building Communities through Brand Properties and executing Marketing Communication strategies for Clients through Events & Activations, Digital Marketing & Technology and Creative Services. For more visit http://www.rsquareconsulting.net
Social Media Week Mumbai Sept 22nd to 26th , 2014
SMW Mumbai is going to be a weeklong celebration. The overarching theme is "Social Media for Social Change". SMW 2014 edition will happen in 12 cities simultaneously - Berlin, Chicago, Johannesburg, London, Los Angeles, Miami, Mumbai, Rome, Rotterdam, São Paulo, Sydney, Toronto. All the high powered events will be live streamed for the audience across globe.The SMW schedule is live now at http://socialmediaweek.org/mumbai/schedule/
For all media queries:
Genesis Burson-Marsteller
Annu Dwivedi
M: +919820024293
E: annu(dot)dwivedi(at)bm(dot)com