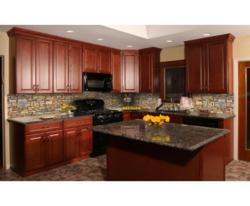 I am very excited that I was chosen as the winner!
Cedarburg, WI (PRWEB) February 27, 2013
After rounds of submitting entries, judging and a public vote, the winner of Custom Service Hardware's kitchen cabinet renovation giveaway has been announced. Texas resident Carmen Green is the lucky winner who will receive a kitchen makeover. The contest, which went live on January 9, 2013, offered homeowners the chance to win up to $3,000 in RTA cabinets and cabinet hardware. Along with the cabinet prize, Custom Service Hardware also offered design assistance via phone and their helpful video tutorials.
Homeowners submitted photos of their current kitchen up until January 30, when the judging began. Interesting entries included kitchens with bright yellow and red cabinets, vintage cabinets from the 1970's, mismatched cabinets and even a kitchen that was destroyed by the wrath of Hurricane Sandy. Although it was clear all of these kitchens were deserving of a renovation, only one could be chosen.
After narrowing the entries down to the best 10 photos, a public vote was cast by fans of Custom Service Hardware. After receiving the highest amount of votes, Carmen Green- a resident of Converse, Texas- was chosen as the winner. Green's kitchen was very small, with hardly any counter space for food preparation or storage. Her cabinets hung unevenly and were barely large enough to store necessary kitchen items. One photo showed that her drawers were held together with screws, clearly about to fall at any moment. The cabinetry was mismatched, with each group of cabinets having a different appearance and color. In her own words, her "kitchen needed work".
Green has submitted dimensions of her kitchen and placement of appliances to begin the renovation progress, which she is more than ready for. She had the opportunity to choose from over 30 styles of ready to assemble cabinets that Custom Service Hardware offers, ranging from maple to walnut construction and dark to light finishes. Custom Service Hardware has been in the business of RTA cabinets since 2005 in order to offer their customers affordable cabinets with tons of options to choose from.
Green has chosen the Hallmark Brandy Series of cabinets, which she will be receiving very shortly. This series of cabinets features a lovely brandy finish and birch plywood construction. She is thrilled about her upcoming kitchen renovation, saying, "I am very excited that I was chosen as the winner!"
Custom Service Hardware hopes to document the transformation of Green's kitchen on their website and blog over the next few months.
About Custom Service Hardware
For over 30 years, Custom Service Hardware has been committed to providing their customers with quality products at great prices. CSH maintains a large inventory of major brands of hardware (over 25,000 products), including a full line of ready-to-assemble cabinets. With 60,000 square feet of warehouse space and 35 full-time employees, CSH has become a leader in the wholesale hardware industry. For more information, you can visit their website at http://www.cshardware.com. You can also reach them at service(at)cshardware(dot)com or by phone at (800) 882-0009.