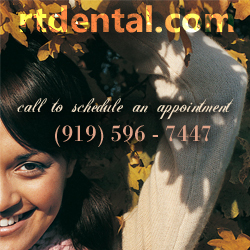 Having a confident smile can change everything
Durham, NC (PRWEB) November 5, 2009
Research Triangle Dental is pleased to announce that it now has two dentists in the group practice, Dr. Brian Cahill and Dr. Pat Cassidy, who are certified Invisalign Providers, with a combined 11 years of experience offering "invisible" orthodontic treatment to their patients. Both doctors are happy to offer Invisalign Orthodontics as part of their broad spectrum of General Dentistry services. Invisalign, a clear alternative to traditional metal braces, is available to both teens and adults.
"Having a confident smile can change everything," stated Dr. Brian Cahill, "Invisalign makes the decision easy because you can get a stunning smile without most people even knowing you're going through Orthodontic treatment."
Dr. Cahill continued, "Invisalign works through a series of custom, removable aligners that you wear every day. With insurance covering Invisalign as they would traditional metal braces, all patients should consider Invisalign as their first orthodontic option. Invisalign orthodontics provides excellent correction and since they are removable, they also provide for better oral health during the process. Research Triangle Dental is here to help you create your dream smile so you can smile not just after the treatment, but during as well."
About Research Triangle Dental
Research Triangle Dental is located in the heart of the Triangle area of North Carolina, providing exemplary customer service to residents in the cities of Raleigh, Durham, and Chapel Hill for over 19 years. RTDental is in a free-standing dental facility specially designed for patient comfort and individualized personal care. Open six days a week, including evenings and Saturdays, RT Dental provides a wide range of services including laser cavity detection, Waterlase laser treatment (often requiring less or no anesthesia for routine fillings), and Lumineers veneers. The practice can be reached online at http://www.rtdental.com or by calling (919) 596-7447.
###