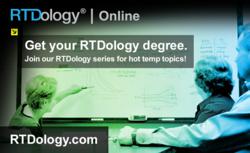 What you don't know about your temperature sensors CAN hurt your process!
Minnetonka, MN (PRWEB) October 31, 2012
Burns Engineerings's RTDology® Online Presents: "A Case for RTD Calibration and Verification".
The session, presented by RTDologist™ Bill Bergquist will offer a clear case for the periodic calibration and verification of installed temperature sensors. High quality instruments can function for years unattended, yet the environment in which they operate and the range of process conditions they experience do have an influence on their performance. Performance degradation can result in measurement errors even though the sensor continues to provide a stable signal.
Delivering on their core mission of providing temperature measurement education to ensure measurement confidence in the process industry, Burns Engineering will present a free online training session on Wednesday, November 14th, 2012 at 12:00 PM CST.
This session will address why sensor drift is a natural phenomenon and when and how to verify the calibration of process instruments. If your maintenance program or quality assurance system does not include periodic temperature sensor calibration, this session will provide the background and technical support to define the value of this practice, build intelligence into the data and ensure confidence in your process.
Registration is now open for this session presented via the web and there is no cost to attend.
RTDology – A Case for RTD Calibration and Verification: 11/14/12 Noon CST
R•T•D•ol•o•gy®; [ahr-tee-dee-ol-uh-jee] -noun
The study of temperature measurement. The practice of expertise in the area of resistance temperature detectors and their application. Visit RTDology for more information.
About Burns Engineering:
Since 1960, Burns Engineering has been an industry leader in the design and manufacture of temperature measurement products for the Process, OEM and Metrology industries. Burns designs custom temperature measurement solutions to meet safety, process efficiency and product quality needs. Products include RTDs, Secondary SPRTs, Thermocouples, Thermowells, Transmitters and NVLAP Accredited Calibrations (Lab Code 200706). Learn more about Burns Engineering or contact via email or 800-328-3871.