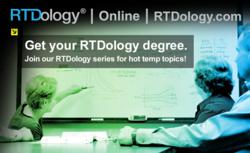 What's the difference between an RTD and a Thermocouple? Stop wondering, attend this session and find out!
Minnetonka, MN (PRWEB) May 31, 2012
As part of their RTDology® Online series of temperature training modules, Burns Engineering will present a session covering the challenges and solutions for achieving confident temperature measurements with RTDs and Thermocouples on Wednesday, June 13th, 2012 at 12:00 PM CST.
Resistance Temperature Detectors (RTDs) and Thermocouples are used extensively throughout the process industry, however they are often misunderstood and misapplied. Learn the key differences between the two sensor technologies, the advantages and disadvantages of each, and when and why to select one over the other. Every application presents unique challenges, learn how to optimize temperature measurements by selecting the right sensor.
"RTD vs. Thermocouple: What's the Right Choice?" is a one-hour practical tutorial packed with insights and tips that can be put into practice immediately. Registration is now open for this web-based session and there is no cost to attend.
RTDology - RTD vs. Thermocouple: What's the Right Choice? - June 13, 2012
R•T•D•ol•o•gy®; [ahr-tee-dee-ol-uh-jee] -noun
The study of temperature measurement. The practice of expertise in the area of resistance temperature detectors and their application. Visit RTDology.com for more information.
ABOUT BURNS ENGINEERING:
Since 1960, Burns Engineering has been an industry leader in the design and manufacture of temperature measurement products for the Process, OEM and Metrology industries. Products include RTDs, Secondary SPRTs, Thermocouples, Thermowells, Transmitters and NVLAP® Accredited Calibrations (Lab Code 200706-0). Learn more about Burns Engineering at http://www.burnsengineering.com or contact directly at 800-328-3871.