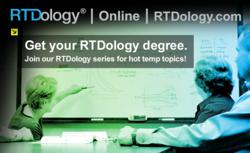 Accurate temperature measurement in a small line is challenging, but not impossible. This session shows you how.
Minnetonka, MN (PRWEB) April 30, 2012
As part of their RTDology® Online series of temperature training modules, Burns Engineering will present a session covering the challenges and solutions for achieving confident temperature measurements in small diameter pipe/tube process systems on Wednesday, May 9th, 2012 at 12:00 PM CST.
Resistance Temperature Detectors (RTDs) are used extensively throughout the process industry in development, production and lab applications. Each application presents unique challenges. Small diameter process tubing (0.25" to 4.0") common in the Pharmaceutical, Biotech and Food & Beverage industries presents a particularly challenging set of circumstances that must be managed properly to yield accurate and repeatable temperature measurements.
"Measuring Temperature in Small Diameter Lines" will address the topics of ambient influences, minimizing flow restriction, achieving proper immersion, and other critical characteristics of this difficult measurement environment.
Registration is now open for this web-based session and there is no cost to attend.
RTDology – Temperature in Small Diameter Lines: 5/9/12 Noon CST
R•T•D•ol•o•gy®; [ahr-tee-dee-ol-uh-jee] -noun
The study of temperature measurement. The practice of expertise in the area of resistance temperature detectors and their application. Visit RTDology.com for more information.
ABOUT BURNS ENGINEERING:
Since 1960, Burns Engineering has been an industry leader in the design and manufacture of temperature measurement products for the Process, OEM and Metrology industries. Products include RTDs, Secondary SPRTs, Thermocouples, Thermowells, Transmitters and NVLAP® Accredited Calibrations (Lab Code 200706-0). Learn more about Burns Engineering at http://www.burnsengineering.com or contact directly at 800-328-3871.