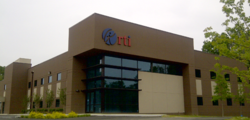 Annapolis, MD (PRWEB) May 21, 2012
RTI Group, a global, multidisciplinary forensic engineering consultancy serving law firms, insurers, corporations, and governments, announced the company's plans for completing its new corporate headquarters in Stevensville, Maryland. The 55,000-square-foot, state-of-the-art facility is scheduled to open in September of 2012 and will accommodate 120 employees and consultants.
The company's global growth has stimulated the need for the new headquarters office and research center. RTI provides transportation and high-risk industries such as marine, aviation, and construction, with comprehensive investigation and legal services that support litigation and claims resolution. The company also conducts scientific research for intellectual property matters, and advises on safety, security, and risk management.
"Our clients rely upon complex technologies, science, and human processes to operate their businesses," said Joseph Reynolds, RTI Group CEO. "RTI possesses the experience, multidisciplinary expertise, and capabilities to serve their needs."
The new building will house chemistry, electrical, mechanical, thermal and metallurgical laboratories; secure evidence storage; a flight simulator; a failsafe data center; and a visual media studio. Special design and construction requirements were met by a number of Maryland vendors and suppliers.
The building was designed by local architect, Greg Torchio, of Torchio Architects Inc. Bob Breeding General Contractors erected the building's frame with steel supplied by ES Steel and glass by Anco. Wilfre Company provided mechanical services and HVAC installation. Painting was done by Premier Painting. Chucks Electrical Service Inc. provided electrical installation services.
RTI Group, LLC was founded in 2003 as a forensic engineering services company, with its origins dating back to 1975. The company's founder, Joseph Reynolds, was also the founder of FTI Consulting, Inc. Anamet Inc., a forensic materials testing laboratory in San Francisco, California became a vital asset to RTI in 2003. In 2004, RTI founded its London office, RTI Ltd., as a wholly owned UK subsidiary and the home office of the aviation and marine practices. RTI Latin America was established in 2008 in Panama City, Panama as an extension of the London office to serve Latin America and, in particular, the Panamanian Flag State and Canal Operations. RTI opened its Bahrain branch office in April of 2011 to provide security and safety services, as well as access to other RTI disciplines in the Gulf and Middle East region.
About RTI Group
Currently headquartered in Annapolis, Maryland, RTI Group is a leading global, multidisciplinary, forensic engineering consulting firm that provides world class investigative, expert witness, legal visuals media, safety, security, and education services to law firms, insurers, corporations, and governments. Our comprehensive services are both proactive and reactive and include the aviation, marine, rail, power utility, and construction industries, as well as the fire, explosion & blast disciplines. With three decades of experience and offices around the globe, RTI Group maintains worldwide analytical capabilities and resources to meet our clients' needs. For more information, visit http://www.rtiforensics.com.