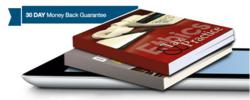 We've really placed on emphasis on being as user-friendly as possible.
Orlando, Fla. (PRWEB) December 22, 2012
Fast Forward Academy has released its newly designed homepage dedicated to highlighting timely continuing professional education products. The company, already known for its high-quality tax preparer courses, is committed to helping tax professionals achieve necessary CPE requirements, and the newly launched tool supports its dedication for continuing education in the tax industry.
Fast Forward Academy has a solid reputation for the various tax education products it offers. Registered tax preparers and enrolled agents can purchase various tax preparer courses or specific individual courses pertaining to their CPE needs. The newly designed Fast Forward Academy homepage makes it easy for tax professionals to access specific information pertaining to continuing tax education.
Early in 2012, the IRS instated new regulations pertaining to continuing education for registered tax preparers. The specific requirements for RTRP continuing education (CE) require 15 hours of tax preparer courses to be completed each and every year. Moreover, they must complete hours in specific categories of tax education.
Fast Forward Academy president, Matt McBride, believes this new section of the website will clarify CPE expectations. He states, "We've really placed on emphasis on being as user-friendly as possible. Tax professionals can see right away which courses they should take—either information for registered tax professionals or enrolled agents. They can also immediately see what CPE packages Fast Forward Academy is offering, as well as timely information pertaining to the industry via a blog."
McBride emphasizes that tax professionals are extremely busy and don't often have time to research specific information in their day-to-day lives. By having all relevant information in one specific place right on the homepage, Fast Forward Academy hopes to make it even easier for any tax preparer and enrolled agent to complete the necessary IRS CPE requirements.
Click here to see how Fast Forward Academy's new homepage can help you obtain necessary CPE requirements.
About Fast Forward Academy
Fast Forward Academy, LLC provides companies and individuals around the world with the tools to help them efficiently manage their professional education needs. The name Fast Forward Academy reflects the scope of our mission—helping students and professionals accomplish more in less time. To realize this goal, we make every effort to provide the most useful and efficient exam prep material in the market place, all designed to help our students Learn Fast and Pass. Our principal focus is to supply rapid training and streamlined continuing education to professionals in the fields of taxation, securities and insurance.
###