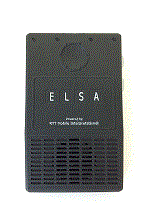 Announcing ELSA
Minneapolis, MN (PRWEB) September 18, 2012
RTT Mobile Interpretation announces the launch of ELSA; a mobile language interpretation device for Police, Fire, EMS, Hospitals, and other professionals communicating with a Limited English Proficient (LEP) population.
ELSA is the heart of RTT's Language Interpretation System. ELSA is a small, body worn device that attaches to users by clip or lanyard. With a push of a button, ELSA connects to a live interpreter in the language requested. Conversations are routed through RTT's Network Operating Center and at the customer's request can be saved in RTT's data vault. By signing in to a secure portal users access and review recorded conversations. This option is vital for organizations requiring verification of information exchange.
The LEP population in the United States is estimated at over 25 million people. With federal laws applicable to language access and prohibiting discrimination based on national origin, the need to provide language interpretation in all environments is critical. Many individual federal programs, states, and localities also have provisions requiring language services for LEP individuals.
RTT created a symbol that recognizes locations with ELSA on site or on board. This symbol gives non-English speaking people confidence that they will be heard and understood. Doctors, Pharmacists, First Responders and other English speaking providers using ELSA save time, money and lives when they can communicate seamlessly with any language.
"We are committed to innovation and the development of advanced products and services to address the demands of the Language Services market," said David Ladner, RTT's Chief Executive Officer. "Today we are pleased to announce that ELSA™ is here. Our integrated wireless service delivery platform provides breadth and depth of language interpretation functionality in one easy to use end-end solution."
RTT Mobile Interpretation is an innovator of mobile, real-time language interpretation via live interpreters. RTT's End-to-End Service Delivery Platform begins with ELSA and provides businesses with an affordable, efficient and convenient solution to their language service needs. Founded in 2007, Real Time Translation, Inc., dba RTT Mobile Interpretation is a privately held company located in Minneapolis, MN.