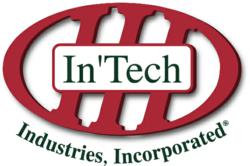 "InTech has been instrumental in the successful development and launch of ELSA™.
Minneapolis, MN. (PRWEB) January 08, 2013
RTT Mobile Interpretation announced today that they have selected InTech Industries, Inc. of Ramsey, MN as their Vendor of The Year.
InTech is the largest SLA Quick Cast Service Provider in the Midwest. They specialize in complex and highly accurate patterns using only the latest equipment and materials.
"InTech has been instrumental in the successful development and launch of ELSA. Working side by side since the birth of ELSA, our Companies shared a steadfast commitment to producing the highest quality and most ruggedized product," said David Ladner, RTT's Chief Executive Officer. "Suppliers are the cornerstone of any greenfield development project and InTech's breadth of experience exceeded every expectation.
ELSA™ is a light weight, body worn device attached to a user by a clip. InTech designed and fabricated the body for ELSA. They will continue to manufacture, assemble and ship devices for RTT from their Ramsey, MN location.
"We have enjoyed working with RTT since their inception of the ELSA device. This device will lay the foundation for breaking through the language barrier that has existed in many situations for years. We feel privileged to be associated with a company like RTT because of the close partnership we have developed," said Dustin Nyara, InTech's Sr. Project Engineer.
About RTT
RTT Mobile Interpretation, Inc. is an emerging growth company that provides instant live language interpretation delivered through RTT's robust end-end operating platform. Customers are police and fire departments, first responders, county and state offices, hospitals, clinics, pharmacies and others dealing with language challenges. Founded in 2007, Real Time Translation, Inc., dba RTT Mobile Interpretation is a privately held company located in Minneapolis, MN.
About InTech
Founded in 1967, InTech Industries, Inc. is a leading supplier of Engineering, Tooling, Injection & Insert molding, Rapid Prototyping and Additive Manufacturing throughout the world. Its 64,000 sq. ft. facility houses four centers.
# # #
Contacts
RTT:
Linda Stanton
VP of Marketing
952-479-6184
lstanton(at)rttmobile(dot)com
http://www.rttmobile.com
InTech:
Roger Neilson, Jr
VP Sales & Marketing
763-576-8100
RogJr(dot)Neilson(at)InTech-Ind(dot)com
http://www.InTechrp.com
http://www.InTech-ind.com