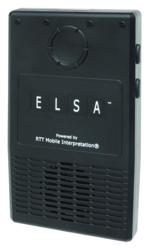 Language barriers can present a number of challenges when officers are responding to calls and investigating crimes.
Minneapolis, MN (PRWEB) April 02, 2013
Clearwater (Florida) Police Department has entered into an agreement with RTT Mobile Interpretation ("RTT") to implement RTT's mobile interpretation system. Clearwater will be the first Law Enforcement agency in Florida to deploy this leading edge technology. Officers equipped with ELSA™ can now communicate immediately with anyone they encounter regardless of the language spoken.
"This technology will help us overcome language barriers and obtain information more quickly during an initial response. Language barriers can present a number of challenges when officers are responding to calls and investigate crimes. ELSA will allow officers to communicate effectively with very little delay," said Clearwater Police Chief Anthony Holloway.
ELSA™ is a light weight, hands free device worn by an officer. Officers press a button and through RTT's Network Operating Center the call is connected to a live interpreter within seconds. RTT also offers a toll free number for cell and landline use that provides the same service received through ELSA.
"Business and public service organizations of all sizes are recognizing the value of immediate access to all languages," said Linda Stanton, RTT's Vice President of Marketing. "Our Agreement with the Clearwater Police Department shows the City's commitment to reducing issues caused by language barriers and effectively serving its diverse population."
With around-the-clock access to highly trained, interpreters via RTT's wireless service delivery platform, police, fire and EMS personnel can communicate in 180 languages at the push of a button. Additionally, ELSA's affordability makes it possible for all municipalities, regardless of budget constraints, to implement this state of the art mobile interpretation solution.
About RTT
RTT Mobile Interpretation is an innovator of mobile, real-time language interpretation via live interpreters. ELSA is being used by police, fire, EMS, county and state offices, hospitals, clinics, hotels and schools. Founded in 2007, Real Time Translation, Inc., dba RTT Mobile Interpretation is a privately held company located in Minneapolis, MN.