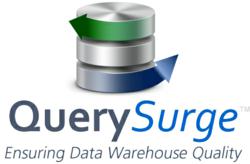 [QuerySurge™] has increased test coverage and reduced test cycle time for several organizations, helping them to mitigate risk and meet business requirements.
New York, NY (PRWEB) October 27, 2011
RTTS, a specialized provider of software quality assurance services, today announced that it has achieved Gold Partner status in Oracle PartnerNetwork (OPN). By attaining Gold level membership, Oracle has recognized RTTS for its commitment to establishing Oracle-related expertise in delivering a tool to automate data warehouse testing, and for uniquely addressing the challenges of customers who are implementing data warehouse quality assurance initiatives.
RTTS has been delivering comprehensive software testing services, solutions, and training for over 15 years. Their team of test experts developed QuerySurge™ to address the unique testing needs in the data warehousing space. It has been implemented on projects ranging from data warehousing and ETL processes to data migrations and database upgrades. QuerySurge™ can verify as much as 100% of all data from source systems, through the ETL process, to the target data warehouse. The tool has increased test coverage and reduced test cycle time for several organizations, helping them to mitigate risk and meet business requirements. "Our OPN Gold status allows us access to resources from Oracle that will help us respond to customer need and create value for our clients," said Bill Hayduk, President and Founder of RTTS.
With its Gold status, RTTS receives the benefit of being able to start developing Specializations that will allow them to grow their business, increase their expertise, reach higher levels of customer retention, and create differentiation in the marketplace. Gold members also become eligible to resell all Oracle Technology products and can apply to resell Oracle Applications and Industry Solutions. In addition, they receive access to Oracle account representatives and My Oracle Support updates for all products, discounts on training, limited free assessment/exam vouchers, reduced rates on the purchase of Oracle licenses for internal use, discounts on advances customer services and more. For more information about the benefits of becoming an Oracle Gold level partner, please visit: http://www.oracle.com/us/partnerships/index.htm
About Oracle PartnerNetwork
Oracle PartnerNetwork (OPN) Specialized is the latest version of Oracle's partner program that provides partners with tools to better develop, sell and implement Oracle solutions. OPN Specialized offers resources to train and support specialized knowledge of Oracle products and solutions and has evolved to recognize Oracle's growing product portfolio, partner base and business opportunity. Key to the latest enhancements to OPN is the ability for partners to differentiate through Specializations. Specializations are achieved through competency development, business results, expertise and proven success. To find out more visit http://www.oracle.com/partners.
About RTTS
RTTS offers the most comprehensive suite of quality assurance services to help organizations drive positive results from their critical software projects. Headquartered in New York, NY, its expert team has worked closely with over 400 clients to improve their testing processes, tool knowledge, and application deployment outcomes. RTTS was founded in 1996, and has forged partnerships with the world's leading test tool vendors. Its satellite locations are in Philadelphia, Atlanta, and Phoenix, and many of its consulting and education services are offered through the cloud. No matter where you are, RTTS will ensure application functionality, performance, scalability, and security for your organization. To find out more visit http://www.rtts.com.
Trademarks
Oracle and Java are registered trademarks of Oracle and/or its affiliates.
Real-Time Technology Solutions, Inc., RTTS, and QuerySurge™ are trademarks and/or service marks of Real-Time Technology Solutions, Inc. in the United States and/or other countries. All other company names, product or service names mentioned in this document may be trademarks of the companies with which they are associated.
###