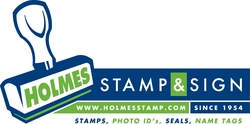 Holmes Stamp & Sign has been in business for 56 years and by now we have learned that service it our thing! – Lots of companies can make stamps and signs, but we focus on service and price!
Jacksonville, FL (PRWEB) September 27, 2010
Even during this recession, Holmes Stamp & Sign has thrived and expanded through internal growth and strategic acquisitions. Croft and Vice President Steve Fernandez continually make decisions about which technologies will enable them to increase efficiencies and improve their customers' experience. By integrating cutting edge technologies, including a focus on web based customers and manufacturing improvements, Holmes Stamp & Sign stays focused on its goal of providing the best customer service at competitive pricing.
Another key to the success and expansion of Holmes Stamp & Sign has been the steadfast commitment to diversifying the product line. By doing so, Holmes Stamp & Sign can better serve their existing customers and attract new customers. They have continued to manufacture core products such as rubber stamps, office name plates, name tags and engraved signs, while adding items to the product line such as full color banners, promotional products, acrylic awards and plaques. This wide range of products allows Holmes Stamp & Sign to meet more of its customers' marketing needs.
This growth-oriented philosophy has been the driving force behind Croft's attempt to adapt the company's 57-year-old policies and procedures to its growing customer base. "When I started at Holmes Stamp & Sign all of our customers were local". By strategically positioning ourselves within the expanding internet market, and taking advantage of the improvements in technology, we have been able to expand our footprint not only nationwide, but across the globe." Croft states. "What separates us is service," Croft says. "Can you get the customer their order on time and at a fair price? Service is a top priority, and we continue to work with different standard operating procedures and LEAN processes to improve." By doing so, Croft and Fernandez expect to be able to continue to position Holmes Stamp & Sign for continued success for the next 50 years and beyond.
Holmes Stamp & Sign
2021-5 St. Augustine Rd. E.
Jacksonville, FL 32207
904/396-2291
Fax: 904/396-2336
Web: http://www.holmesstamp.com
The Platinum Manufacturer of the Year is chosen from among Marking Industry Magazine's largest subscribing manufacturers. Winners are selected solely on the percentage increase in sales growth. Marking Industry Magazine, the only national publication for the marking devices industry, is targeted to manufacturers, suppliers and retailers of rubber stamps, engraved products and other marking devices. It features up-to-date information about products, trends and trade shows. It is headquartered at 136 W. Vallette, Suite 6, Elmhurst, IL 60126-4377; 630/832-5200; Fax: 630/832-5206; E-mail: info(at)markingdevices(dot)com; Web: http://www.markingdevices.com.
# # #