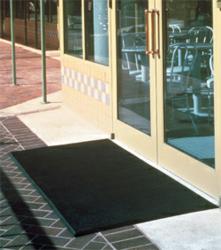 Mat-A-Dor provides the most vigorous scraping action possible, keeping dirt and grit where it belongs - outside
Cleveland, OH (PRWEB) May 28, 2013
The new Mat-A-Dor™ rubber scraper mats are designed to prevent dirt from being tracked indoors in heavy traffic applications. These floor mats contain 50% more rubber "fingers" than standard fingertip mats, providing outstanding dirt scraping and durability in all types of environments.
The Mat-A-Dor rubber scraper entrance mats are ideal for heavy foot traffic areas such as hospitals, schools, stores, airports or industrial buildings. The rubber mats remain flexible even at cold temperatures, and the beveled edge reservoir retains up to one gallon of liquid per square yard. The beveled edge also helps reduce tripping hazard to improve safety, and the 5/8" thick rubber also makes it a comfortable anti-fatigue mat for indoor applications.
"Mat-A-Dor provides the most vigorous scraping action possible, keeping dirt and grit where it belongs - outside," states company president Dan Ruminski.
Featuring a five-year warranty, Mat-A-Dor rubber doormats come in 24" x 32", 32" x 39" and 36" x 72" sizes. With over 2400 flexible rubber fingertips per square foot, the mats vigorously scrape dirt and moisture from footwear. They resist all common acids, alkalis and salts.
About Martinson-Nicholls
Martinson-Nicholls, has established itself as a leader in custom anti-slip tape, floor mats, and eco-friendly products for more than 25 years.
Martinson-Nicholls provides the customer with the exact size matting needed--small, large, standard, nonstandard, special shapes and logos. Custom installations are also a specialty of the company.
Anti-slip safety tapes and treads are available in various sizes and textures from hand cut or die cut pieces to full rolls and special shapes. For more information, please visit http://www.floormat.com.