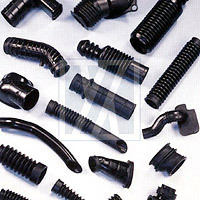 We serve customers conscientiously. Respecting clients, consistent quality, integrity, agility, and continuous improvement
(PRWEB) July 16, 2009
Certified to ISO 9001:2000 standards, Yuanyu Rubber Enterprise Co. Ltd. manufactures various kinds of automotive and mechanical rubber parts including dust boot, Air Intake Hose, Rubber to Metal Bonding, Rubber Dust Boots, Rubber diaphragms, Custom Molded Rubber Parts, flexible duct hose, rubber bushes, rubber buffers, shock absorber rubber parts, Nitrogen chambers of shock absorber, and custom molded rubber products etc. with its rich experience in rubber industry.
Yuanyu Rubber - Taiwan-based Professional Rubber Products Provider
As for its Rubber to metal bonding product line, Yuanyu Rubber offers the following product types such as rubber bush, shock absorber rubber parts, fuel tank lid, carburetor manifold with rubber bonding, wheel, reed valve with FKM bonding, and other custom rubber to metal bonding products to worldwide markets, distributed mainly in Taiwan, North America, East Asian, and Europe with the manufacturing advantage of stable quality of adhesives strength. To meet market needs, the material for general use contains a variety of objects including NR, NBR, NBR+PVC, CR, EPDM, Silicone, ACM, and FKM. In 2007, for the purpose of environmental protection, Yuanyu Rubber imported Seiko SEA1000A XRF X-Ray Analysis to test hazardous substances banned by the EU's RoHS directive across the whole production process line.
"We serve customers conscientiously. Respecting clients, consistent quality, integrity, agility, and continuous improvement," declared by Mr. Chen Shen-Tan, President of Yuanyu Rubber, and Mr. Chen Pi-San, General Manager of Yuanyu Rubber, to be the spirit of its corporate culture. With the competitive advantages of its unique modeling and difficult mold releasing forms, Yuanyu product - Rubber dust boot - is a key component applied in automobile, motorcycles, scooters, quad bikes (dune buggy), and other engineering industries. Rubber dust boots are able to not only protect shock absorber against dirt and moisture but also be involved in protecting the wheel cylinders. At present, Yuanyu Rubber is in the supply of rubber dust boot to a great number of clients including Yamaha motor Taiwan, Suzuki motor Taiwan, KYB Taiwan, KAIFA industry Co. Ltd., SYM motor Co. Ltd., KYM CO motor Co. Ltd etc, which its material for general use includes NBR+PVC, CR, and EPDM (excellent ozone resistance materials).
Another product line, Air intake hose and Flexible duct hoses, can be utilized in the linking part of air cleaner system for Automobiles, motorcycles, scooters, and quad bikes to reduce noise level and vibration, which its manufacturing advantage can be applied as unique or difficult mold releasing forms and its materials for general use are excellent ozone resistance materials such as NBR+PVC, CR, EPDM, HNBR, ECO. Currently, Yuanyu Robber mainly offers some well-known auto companies and motor companies such as Suzuki motor Taiwan, SYM motor Co. Ltd., Mitsubishi motor Taiwan, Nissan motor Taiwan, and Chrysler Corporation etc. In order to serve all customers' individual requirements, Yuanyu Rubber owns a well-experienced engineering team to develop air intake hose products to meet the exacting specifications of most air intake system.
An accumulation of 28-year experience and achievement in rubber industry
Found in 1981, Yuanyu Rubber set off manufacturing auto molded rubber parts in the initial stage of establishment of business development. Owing to the competitive advantages of its high quality, reasonable price, and remarkable integrated service, now Yuanyu Rubber has wined customers' trust and a fine reputation in rubber industry. Above all, Yuanyu Rubber provides a full product line that furnishes customers with all they needs. With the rapid development of the electronics industry, Yuanyu Rubber also catches up with the market trend and increases manufacturing Electronic-related rubber product items. Now Yuanyu Rubber products have been applied broadly in both domestic and oversea markets with high reputation. Unsatisfied with the current achievement, Yuanyu Rubber continues stressing on R&D for product innovation and improvement to please customers in needs.
Contact Information
Company: Yuanyu Rubber Enterprise Co. Ltd.
Tel: +886-2-2689-6737 / +886-2-2689-6738
Website: http://www.yuanyu-rubber.com/
Please visit allproducts.com Press Room for further information.
###