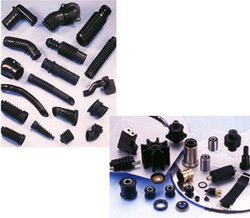 (Vocus) September 9, 2010
With the help from advanced equipments such as rubber injection molding machine and silicon rubber injection molding machine, Yuanyu Rubber gives support for the customers to go through the whole manufacturing process from material selection, designing suggestion, molds development, and production.
Yuanyu has been manufacturing different kinds of automotive and machine custom molded rubber products including dust boot, air intake hose, Rubber to Metal Bonding, rubber packings, rubber grommets, rubber bushings, silicone rubber parts, rubber diaphram, waterproof gasket, rubber bumpers, electronic rubber parts, custom molded rubber products, etc.
With specialty in Rubber to metal bonding product line, Yuanyu provides the following product types such as rubber bush, shock absorber rubber parts, reed valve with FKM bonding, and other personalized rubber to metal bonding products.
As for present Rubber to metal bonding market status, Yuanyu dominates a major proportion mostly in Taiwan, North America, East Asia, and Europe. Our manufacturing vantage lies in the key points of stablized quality of adhesives strength. The material for general usage contains the following objects including NR, NBR, NBR+PVC, CR, EPDM, Silicone, ACM, FKM, Solvent-Based Primers with RoHS compliant.
Dedication to quality
As to Rubber dust boot product line, its usage includes an important component in the automobile, motorcycles, scooters, quad bikes(dune buggy), and other engineering industries. Rubber dust boots protect shock absorber from dirt and moisture. Besides, they also take part in protecting the wheel cylinders.
The advantage of Rubber dust boot manufacturing is that it can be applied on unique or difficult mold releasing forms. At present, its major markets includes Yamaha motor Taiwan, Suzuki motor Taiwan, KYB Taiwan, KAIFA industry Co. Ltd., SYM motor Co. Ltd., KYM CO motor Co. Ltd etc. Generally, its material applied includes NBR+PVC, CR, and EPDM, which are the wonderful ozone resistance materials.
While talking about the Air intake hose and Flexible duct hose, they can be well fit with the linking part of air cleaner system for Automobiles, motorcycles, scooters, and quad bikes, by which can reduce noises and vibration. Function is the important advantage of these two products that it can be applied on unique or difficult mold releasing forms. Materials applied on these products include NBR+PVC, CR, EPDM, HNBR, and ECO, which are excellent for resisting ozone.
Currently, major clients of Yuanyu are companies such as Yamaha motor Taiwan, Suzuki motor Taiwan, SYMCO. Ltd., etc. In order to meet customers' requirements, Yuanyu owns an experienced engineering team for developing the air intake hose to meet the specifications of different kinds of air intake system.
OEM Capacity
Yuanyu manufacture custom molded rubber products in any shapes, sizes, or materials such as Rubber dust boots, Air intake hoses, Rubber to metal bonding, Rubber Bushes, Rubber buffers, Shock absorber rubber parts, Rubber gaskets, Diaphragms, O-Rings, Seals, Packings, Keypads, Rubber feet, Adhesive backed rubber parts, Thermoplastic elastomeric parts, and Liquid silicone parts.
Manufacturing advantage: Unique or difficult mold releasing forms. Stable quality of adhesives strength for rubber to metal bonded mounts. All products RoHS compliant.
QC Equipment: Oscillating disk rheometer, Computerized tensile strength tester, Ozone tester chamber, Aging oven tester, XRF X-RAY Analysis , 2.5D Vision Measuring System, Digital hardness measurement, Digital densimeter. Rubber Injection Molding Machine, Liquid Silicone Injection Molding Machine, Silicone Injection Molding Machine, Compression Molding Machine
Contact Information
Company: Yuanyu Rubber Enterprise Co. Ltd.
Tel: +886-2-2689-6737
Website: http://www.yuanyu-rubber.com/
Please visit allproducts.com Press Room for further information.
###