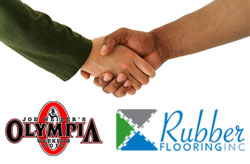 Chandler, AZ (PRWEB) October 03, 2012
Rubber Flooring Inc. and the event organizers at the Mr. Olympia have agreed to form a strategic partnership. The partnership includes supplying all rubber gym flooring and gym matting to the event.
"The Mr. Olympia production coordinators came to us in need of rubber flooring for the Men's Fitness Ultimate Athlete Challenge," states RubberFlooringInc.com COO Kurt Leitinger. "In fact, we later found out the event organizers had already shopped around online and made a purchase from our company before we even reached a deal. They said we had the best prices they could find and loved our free samples program. After discussing terms of the partnership, the Mr. Olympia organizers have formally chosen RubberFlooringInc.com to be their official gym flooring provider." Mr. Leitinger explains, "In exchange for this honor, our company has agreed to provide flooring to the event on an ongoing basis as needed."
The flooring was seen this past week at the Men's Fitness Ultimate Athlete Village at the 2012 Mr. Olympia in Las Vegas, NV. The flooring used was an economical 8mm thick Eco-Flec roll out flooring that is designed to handle moderate to heavy weights. The flooring was made from 100% recycled rubber and offers the natural anti-slip properties of rubber to help keep the athletes safe during competition.
The entire team at RubberFlooringInc.com is excited about this newly formed partnership. Justin Hoverson, Director of operations added, "Who is better equipped to pick out the best weight room flooring than the people who run the biggest bodybuilding show on the planet? We strive to be the best in our market and this can only help further cement our position as the #1 rubber flooring provider in North America." Lead Merchandiser Lamont Robbins agrees and adds, "We have been looking for a long term marketing partner in this industry for a while. We are excited to have reached a partnership with a quality company who has been around since the late 60's putting on the most respected bodybuilding show in the world."
"The Mr. Olympia event went off without a hitch and the flooring worked perfectly for the Ultimate Athlete challenge I am told" says Mr. Leitinger. "It was a fun event to attend and we can't wait to grow our business relationship even more with the good people at the Mr. Olympia."
About Inc Stores, Owner of Rubber Flooring Inc.
Headquartered in Gilbert, AZ, Incstores owns the leading online destination for residential and commercial specialty flooring options including RubberFlooringInc.com and Garage FlooringInc.com. Rubber Flooring Inc. is focused on providing the best selection of recycled rubber flooring, garage flooring, and foam mat products online to its valued customers. All of Inc Stores web shops offer competitive pricing, a top notch and knowledgeable sales and service, and the widest selection available. For more information, please visit http://www.rubberflooringinc.com.